When our story last left off, brand marketers were having a field day with web-based digital content, and we were starting to get a bit depressed about the state of content in today's oversaturated market.
The question we faced—and are still facing today—is this: How can brands create content that stands out amidst the flurry of blogs, news, videos, and other stuff that businesses, publishers, and individuals are distributing?
The answer is high-value interactive content. What exactly does this mean? I'm talking about content that:
incorporates dynamic elements such as videos, animations, and image carousels.
involves the participation or feedback of the end user.
engages the viewer by giving them a role to play in unfolding the story.
Before we dive into the reasons why interactive content is such a transformative channel for your marketing program, let's explore how interactive media came about and how brands have been utilizing this technology over the past 20 years.
Interactive Media: Technology 101
The technology needed to create interactive media as we think of it today—media that allows users to participate in exploring content on a screen, whether by clicking, selecting, providing information, or swiping—began to emerge in 1995. There've been 3 notable programming advances that have made interactive content development possible for brands today:
1. Javascript
In 1995, Brendan Eich of Netscape released the first version of Javascript, a dynamic programming language that is now the most widely-used language in the world. Javascript enables most client-side web interactions we use today such as animations, form fields, real-time content updates, and search boxes.
2. Adobe Flash
In 1996, the company then known as Macromedia purchased a piece of technology called FutureSplash, which eventually became Flash 1.0. With Flash, you can use text and graphics to create animations, games, and applications on desktop and mobile. You can also use it to stream audio/video and capture mouse, keyboard, microphone, and camera inputs. Flash has fallen out of use for the most part in the wake of HTML5, but it was super popular with web developers and content creators in the late 1990s and early-to-mid 2000s.
3. HTML5
The first version of HTML5 rolled out in 2008, and since then, it's become the dominant framework for building interactive content that functions across browsers and devices. While there was initially some resistance around moving to HTML5 from Flash, it's now become the gold standard for animations, video playback, and other user-facing interactive functionality.
Early Interactive Brand Content: 1996 – 2005
When interactive web design became possible in the mid-1990s, brands began utilizing it in two ways:
Basic functionality for forms and other on-page elements.
Design gimmicks such as animated background textures, flashing objects, and other cheesy animations. A gloriously awful example from Pepsi's 1996 website:
(Source: Business Insider)
As Flash functionality became more robust, content creators began to use interactivity to create much more dynamic experiences. One of the most popular sites during the Flash heyday was Homestar Runner (still live for your viewing pleasure today!):
(Source: HomestarRunner.com)
The site featured serial content published in the form of animations, short videos, and games. Instead of using interactive bells and whistles to enhance a static site, they built an entire interactive content publishing syndicate that became wildly successful.
Established brands also began to use interactive content to engage their audiences in the mid-2000s. Take the Snickers Satisfies site, which launched in 2005:
(Source: Creativity Online)
This microsite incorporates visual storytelling and interactive exploration, giving readers the power to consume content in the order and at the pace they want.
Snickers' current site looks more modern, but still gives viewers total control over driving the story. Their 2015 version also incorporates UGC (user-generated content) in the form of social media posts, which makes the site more of a two-way conversation.
(Source: Snickers Satisfies)
Interactive Brand Content: 2006 – Today
While interactive content has been technologically possible for two decades, it's only now that brands are really starting to leverage the power of interactive to tell compelling stories to their customers, prospects, and followers. Why the long delay? There are two main reasons:
Until a few years ago, brands didn't really need to invest in interactive content because people engaged just fine with their static content (think blog posts, eBooks, case studies, whitepapers).
Creating interactive content has been, until recently, a laborious undertaking. Not only does it take a copywriter and designer who understand how to tell stories in a completely new and interactive way—it also requires a development team to build out these experiences, test them, and deploy them. And as we know, most developers would rather be working on product development than building marketing assets, no matter how awesome those assets happen to be.
Today, both of these objections have become obsolete. Brands are finding it much harder to connect with their audiences as the internet is slowly drowning in a flood of content from publishers, businesses, and individuals. They're looking for a lifeline to pull their content out from under water and onto dry land where their customers can find it, and interactive stories are giving them this visibility.
It's also now much easier to create interactive content with marketing platforms that eliminate the need for custom coding and testing. Instead of spending weeks to months producing a single interactive asset, brands can now design and publish interactive pieces in a matter of days.
So what kinds of content are brands creating in this brave new interactive world? Let's take a look at a few of the most common types.
Interactive Magazines
Big brands are becoming publishers in their own right, creating e-magazines to keep their customers engaged with interesting stories and news. For example, automobile brand Peugeot publishes a quarterly magazine called e-motion that they share with their fans to keep them up to date on the latest news, customer stories, and other cool features.
(Source: Peugeot)
Quizzes
We all know and love interactive quizzes like the ones BuzzFeed uses to drive massive traffic.
(Source: BuzzFeed)
Brands have taken up using interactive quizzes to entertain their fans and also learn more about them. Take this "Which Mad Men Character Are You?" quiz from HubSpot:
This quiz is fun, ties into pop culture / current events (um yes, the Mad Men finale is totally a current event), and also provides HubSpot insight on the personalities of their readers.
Infographics
Brands have been creating static infographics for years now. They're a great way to convey data in a compelling manner, but they can still be a bit dry or difficult to read as one large image on a web page or in a PDF.
Innovative brands like HP have been rethinking they way they communicate data with customers and prospects by developing interactive infographics like this one they did in partnership with the Seattle Mariners: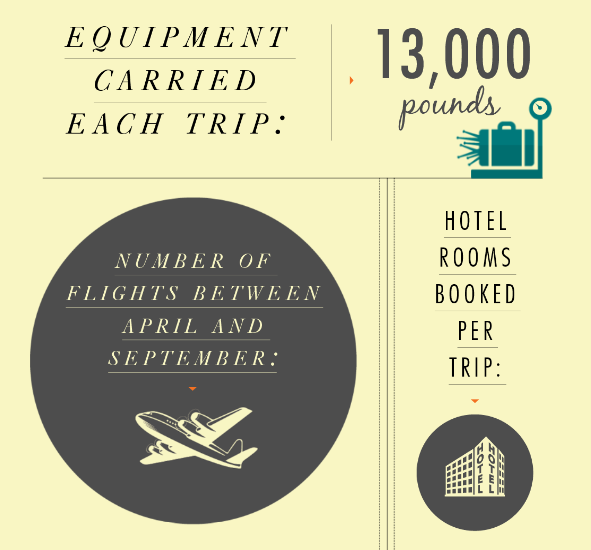 (Source: HP and 10Ten Media)
Lookbooks
Retail brands have always struggled with making print pieces like lookbooks and catalogs exciting for online viewers. Interactive lookbooks like this one from Monsoon really bring the products to life (and conveniently allow consumers to shop the pieces as they flick through, which you can't do with a print or PDF version):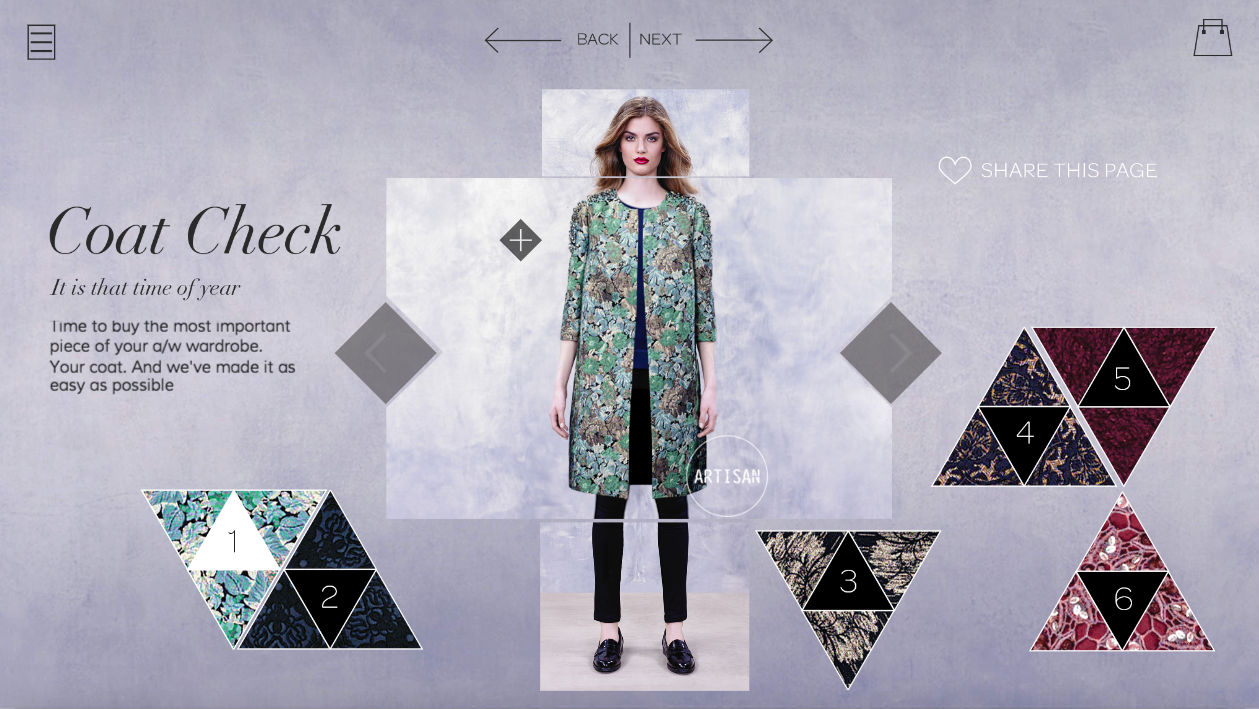 Microsites
Microsites have been campaign favorites with brand marketers for years. But consumers are getting bored with the same old static web pages, even if the content itself is really interesting.
To combat this content fatigue, innovative brands and publishers have been investing in microsites that are customized to the user's inputs. BBC's recent Life on Earth microsite allows users to explore how their lives are connected to the world around them, giving them a personalized and engaging way to learn about new topics they would probably just tune out if presented in ordinary textbook fashion.
(Source: BBC)
The Bottom Line
Interactive content has been slow to catch on, but it's starting to come into its own as a new channel for brand marketers to inspire, educate, entertain, and engage their audiences with content in new and exciting ways. The basic principles of marketing that emerged in the print era and were codified with digital technology are now being transformed into something entirely different with interactive. The way we've told stories about our brands and products is changing, even if the stories themselves are not.
Interactive is just the tip of the iceberg when it comes to emerging brand marketing technology. In the next installment, we'll explore what the future might hold for brand content.