Reading Time:
6
minutes
Long before Coachella became the spot for young moderns to get their freak and their fashion on, Palm Springs, California served the same purpose for Hollywood high rollers. The party started 100 years ago with silent movie stars traveling 110 miles into the desert to chill out and escape the heat of their celebrity in a place where creativity could be as wide-open as the landscape. After World War II, things kicked into high gear when the likes of Frank Sinatra, Dean Martin, Elizabeth Taylor and Lucille Ball flocked to Palm Springs and its stock of groundbreaking architecture. Sex and booze flowed freely; Sinatra allegedly had a flag that he raised at his E. Stewart Williams modernist compound to signal the beginning of cocktail hour.
Money and available land created expansive opportunities for innovative architects including Richard Neutra (who built the 1946 Kaufmann house, once owned by Barry Manilow), John Lautner (designer of Bob Hope's volcano-inspired home, about which the comedian quipped "Well, at least when they come down from Mars they'll know where to go.") and Donald Wexler (whose 1964 compound for the singer Dinah Shore is now owned by Leonardo DiCaprio). These and other desert modernists built a new vocabulary of domestic design with modern construction methods and glass walls, butterfly rooflines and indoor-outdoor living spaces. Today, Palm Springs boasts the largest concentration of mid-century modern architecture in the world. Here's a list of what any design-savvy visitor needs to do' and more importantly see, in Palm Springs.
Housed in a low-slung 1970s citadel designed by architect E. Stewart Williams, the city's fine art hub boasts Western and Native American art and a modern collection featuring artists such as Alexander Calder, Claire Falkenstein and Anish Kapour. The Museum's latest edition is the Architecture and Design Center, a former 1961 savings and loan building by Williams, which stages curated shows and displays architectural drawings by Richard Neutra, Julius Shulman photographs and furniture designed by Greta Magnusson Grossman and Frank Gehry. The "crown jewel of the collection," says Director Brooke Hodge, "is the Frey House II," a midcentury aerie built into the San Jacinto mountainside, open to tours by appointment and during Modernism Week and Modernism Fall Preview Weekend.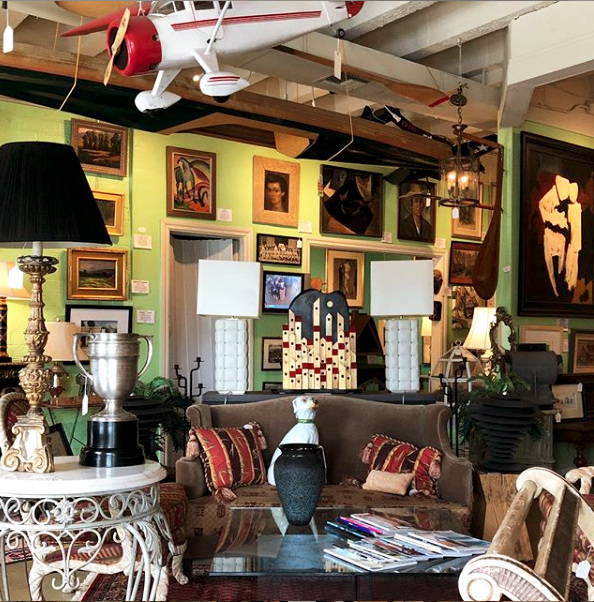 There's no shortage of spend-y vintage design shopping in Palm Springs. Price-sensitive collectors should explore the cluster of antique malls further south on Sunny Dunes Rd. and check out the Perez Art & Design strip mall in Cathedral City. Of course, you can't avoid a stroll through Uptown Design District on Palm Canyon Drive (the city's main drag) with mid-mod shops including Flow Modern, but just around the corner on Indian Canyon Drive and Arenas Street, you'll find the baroque splendor of Stewart Galleries. Impeccably curated by Phil Kieffer, the gallery is packed with 20th century abstract and male-objectifying paintings and sculptures (with exhaustive artist biographies) ornate period furniture, Majolica ceramics and industrial "mantiques."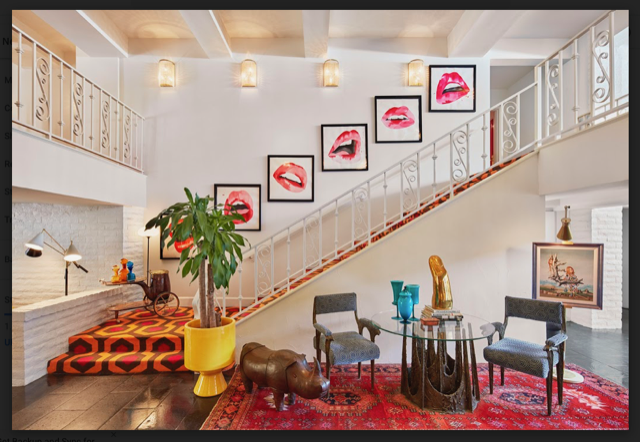 In the 21st century, the wily hoteliers of this densely resort-populated getaway became interior décor groupies eager to hook up with marquee names. Among them: Kelly Wearstler (who glammed up the Viceroy, which is now the Avalon) Martyn Lawrence Bullard (who reimagined The Colony Palms in Morocco-a-go-go style) and Commune (who brought artisan Calif-organic modernism to the Ace Hotel). The most endearing–and enduring—is The Parker, which has underwent facelifts by Jonathan Adler that wittily combine classic Palm Springs Modern, Hollywood Regency and Pop Art styles with Adler's crafty touch for a breath of fresh nitrous oxide in a town where too much of the hotel stock is midcentury-by-the-numbers.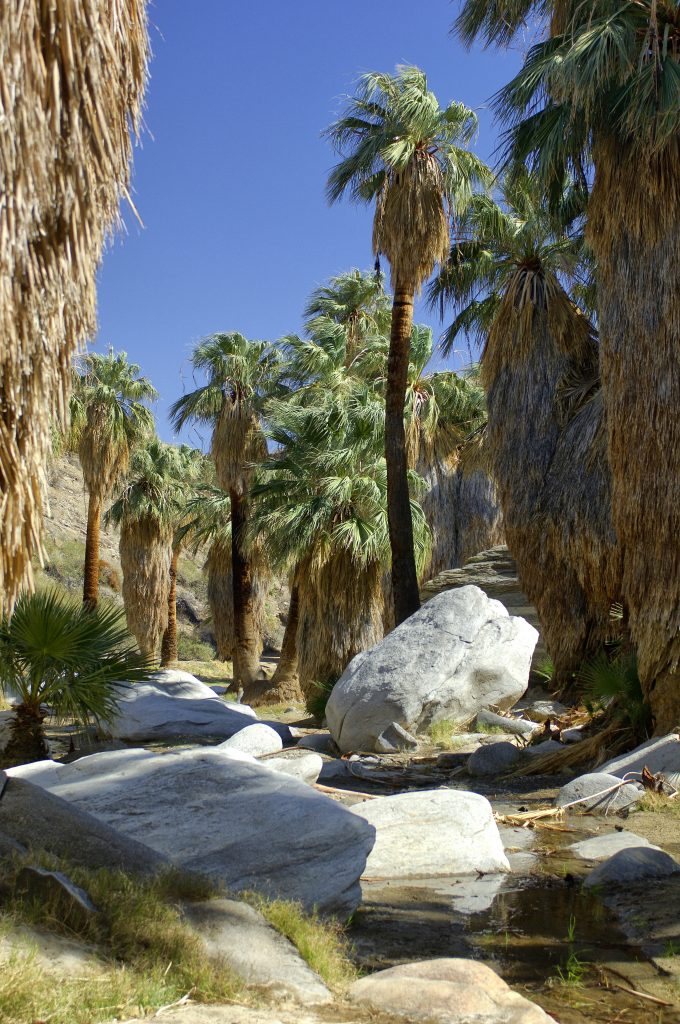 Famed for its swimming pools, golf courses and racquet clubs, Palm Springs also sports historic hiking trails in canyons that have been home to the Agua Caliente Band of Cahuilla Indians. Both canyons are home to rock art, ancient irrigation systems and native wildlife and plants. Tahquitz also has a seasonal 60-foot waterfall and a Visitor Center with an observation deck, theater and exhibitions. The Visitors Center is "a wonderful work of contemporary architecture in Palm Springs that is rare, indeed," says author and filmmaker Michael Stern, who runs the architect-tourism service ModernTour.com.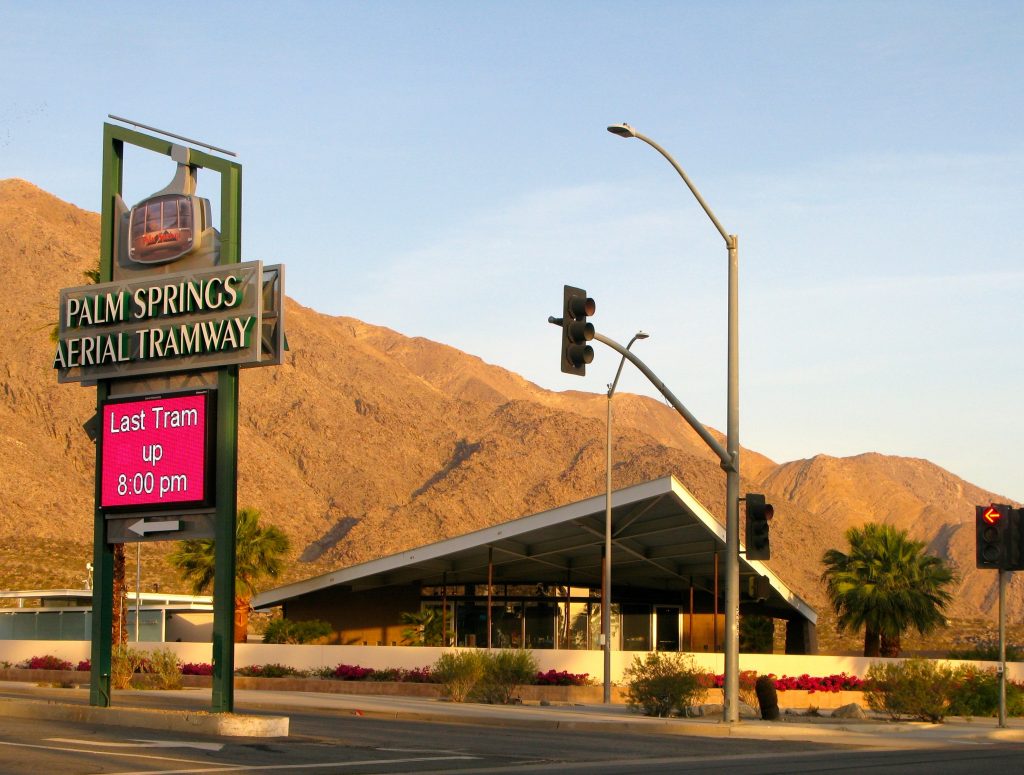 The best way to get a panoramic postcard view of the city—and the entire Coachella Valley—is to get high. We're talking 8,500 feet up. The 1963 Palm Springs Aerial Tramway, the world's largest rotating car travels over 2.5 miles in about 10 minutes. At the foot of Tramway Road., the Palm Springs Visitor Center (formerly a gas station) with its aerodynamic cantilevered roofline is a striking example of the modernist architects Albert Frey and Robson C. Chambers, who also designed the Valley Station from which the tram departs. At the top, The Mountain Station, designed by E. Stewart Williams, welcomes visitors with restaurants, observation decks and miles of hiking trails.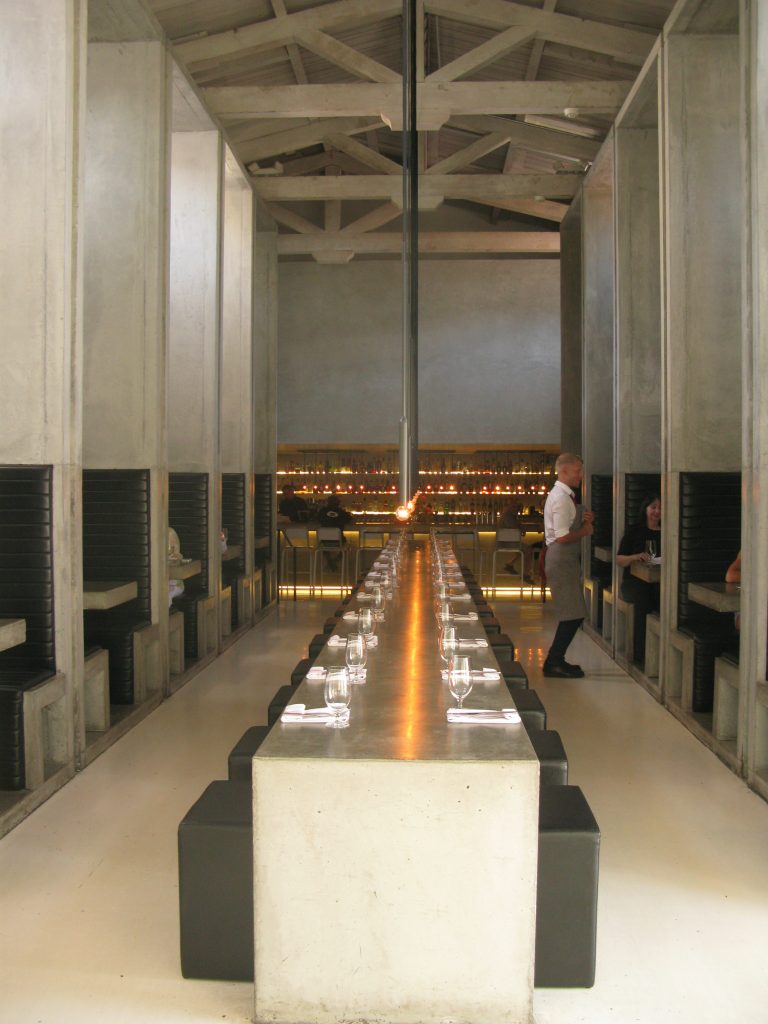 Palm Springs isn't exactly a hot spot for the epicurious, but there are delicious options (Birba, Cheeky's, Johannes) and seriously camp old-school options (Melvyn's, which offers table side Steak Diane flambé). Workshop was the first to bring local farm-to-table dining to the scene with an ambitious seasonal menu and, naturally, craft cocktails. Occupying a 1920s theater with 27-foot ceilings in the landmark El Paseo building, the eatery was reconfigured by New York's Soma Architects as a minimalist hybrid of bunker and cathedral, a refreshing antidote to Palm Springs style that won a James Beard Award for Best Restaurant Design in 2015.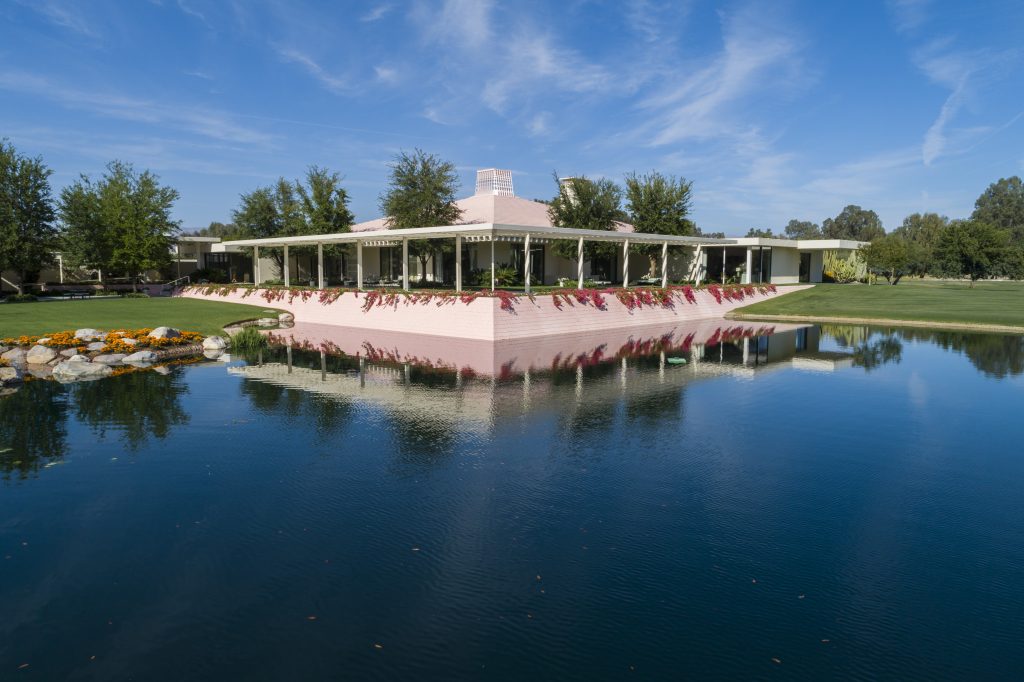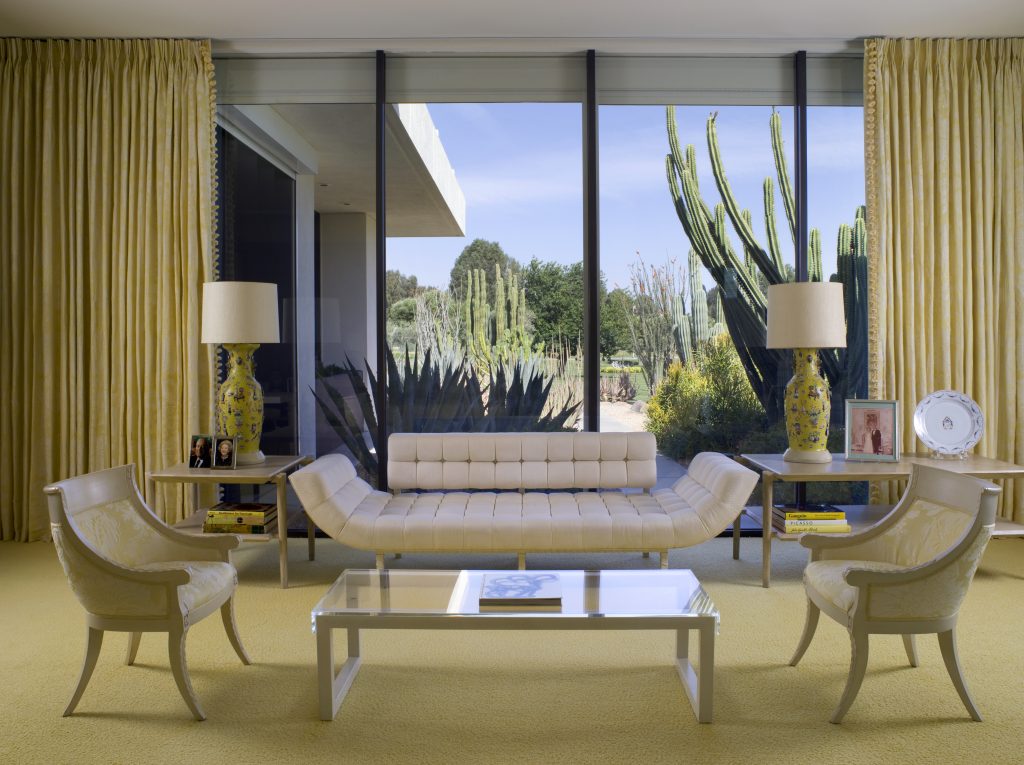 Okay, so it's actually in Rancho Mirage. Still, this 200-acre winter home for media titan, Ambassador to the United Kingdom, philanthropist and pal to POTUSes Walter Annenberg may be the height of mid-century style. Built in 1966 by acclaimed architect A. Quincy Jones, the pink-roofed residence, which features an atrium that showcases a Rodin, had interiors and custom furnishings designed by interior decorator William Haines, who pioneered the Hollywood Regency style. Advanced reservations are a must for the must-see house tours, but not for the Sunnylands Center & Gardens.
Cabazon, CA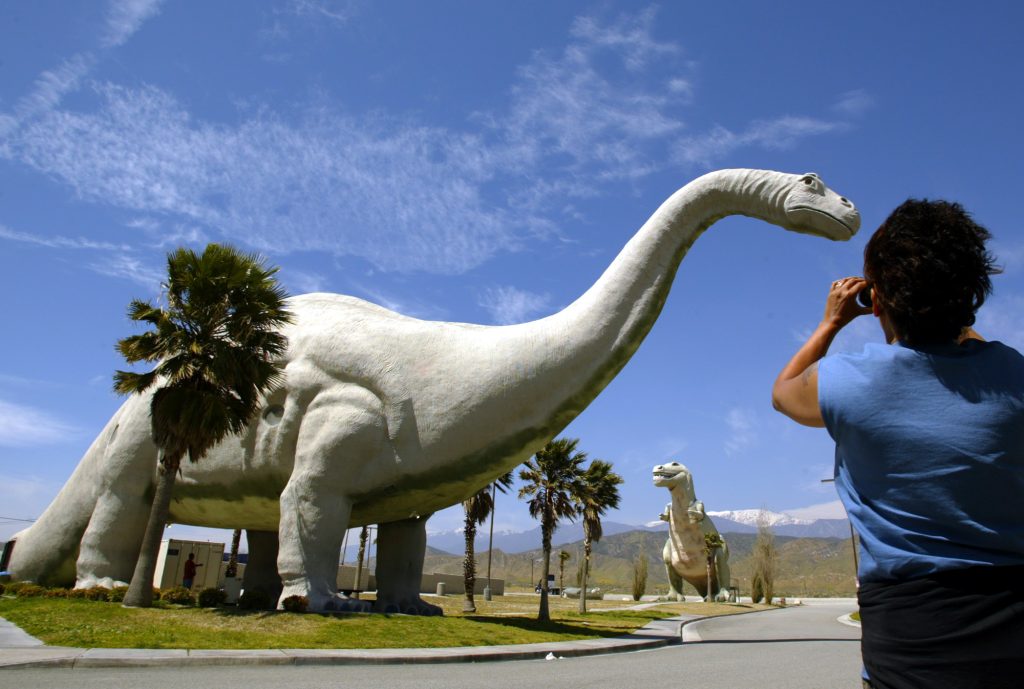 Barely a blip on the map, this tiny town just off the freeway and 20 minutes outside of Palm Springs looms large in touristic attractions: the Desert Hills Premium Outlets (where there's a red velvet rope at Gucci), the Morongo Casino, Hadley's (home of the date milkshake) and the massive roadside dinosaurs featured in Pee Wee's Big Adventure.
Local Heroes: Palm Springs people reveal their can't-miss list.
BROOKE HODGE, former director at the Palm Springs Art Museum Architecture and Design Center
"Everyone should visit Moorten Botanical Garden. It's like a trip back in time to old California and the early days of Palm Springs. Founded by Chester "Cactus Slim" Moorten, a former Keystone cop in silent movies, and his botanist wife Patricia, the garden and its cactarium full of rare specimens, is now tended by son Clark Moorten."

"The Ace Hotel features work by Alma Allen (in the lobby and the hotel rooms), Stan Bitters (exterior), Lily and Hopie Stockman (exterior), and Romeo Reyna (inside King's Highway restaurant) for a slice of California art and design both old and new."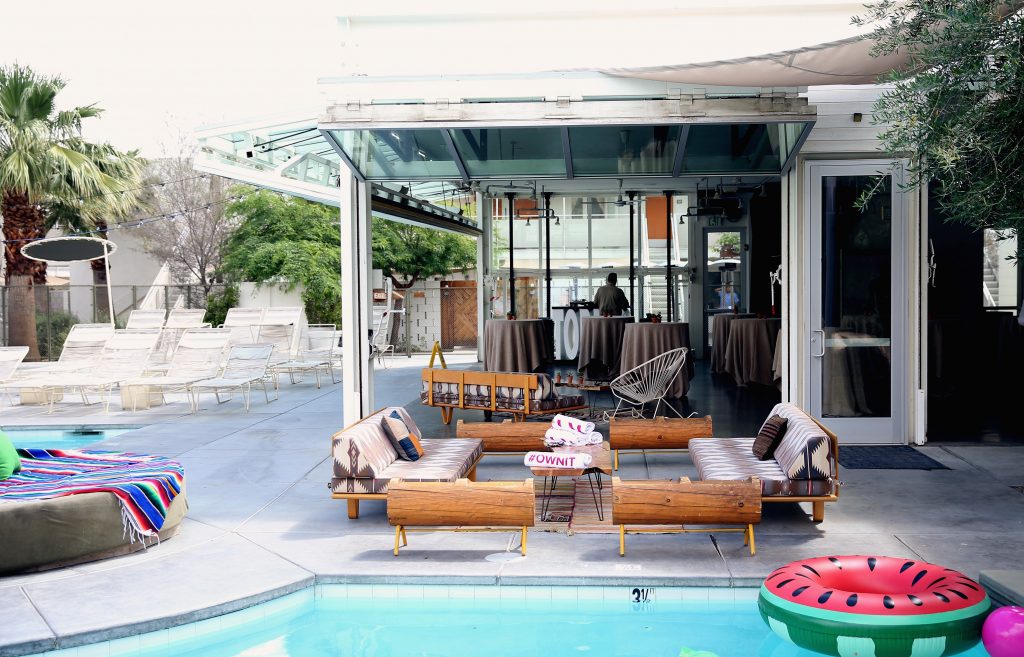 DANIEL CHAVKIN, architectural photographer
"The Walker Guest House, built in 1952 for Dr. & Mrs. Walker on Sanibel Island in Florida, was designed by Sarasota modernist architect Paul Rudolph and nicknamed the Cannonball House for the metal spheres that are used to raise and lower window shutters. The Palm Springs Modern Committee brought a full-scale furnished replica of the house to Palm Springs and gives tours of it on the weekends."