Reading Time:
5
minutes
With clients ranging from Pearl Jam to 20th Century Fox, illustrator Paul Jackson has unleashed his surreal vision of the world to a wide audience across multiple avenues and media. Born and raised in Brighton, UK, Jackson fuses traditional media with digital tools to capture popular culture in an entirely different light. We caught up with him to talk about balancing time when working with clients, how scale can dramatically transform work, and why cereal box prizes are still relevant.
Hello, Paul! So tell us, when did you realize it was time to graduate from simply drawing amazing pictures to being a professional illustrator?
I think the first time it registered that I was a professional illustrator was when magazines started asking me for artwork. I never really thought of myself as a professional artist until publications began approaching me. I worked a lot with Front magazine and Kerrang! magazine back in the day, which were very youth orientated, but the jobs were fun—mainly drawing images of the Wu-Tang Clan or underground hardcore bands. It was a strange jump from doing the artwork for friends' bands to working in a more corporate way. It felt good to get noticed.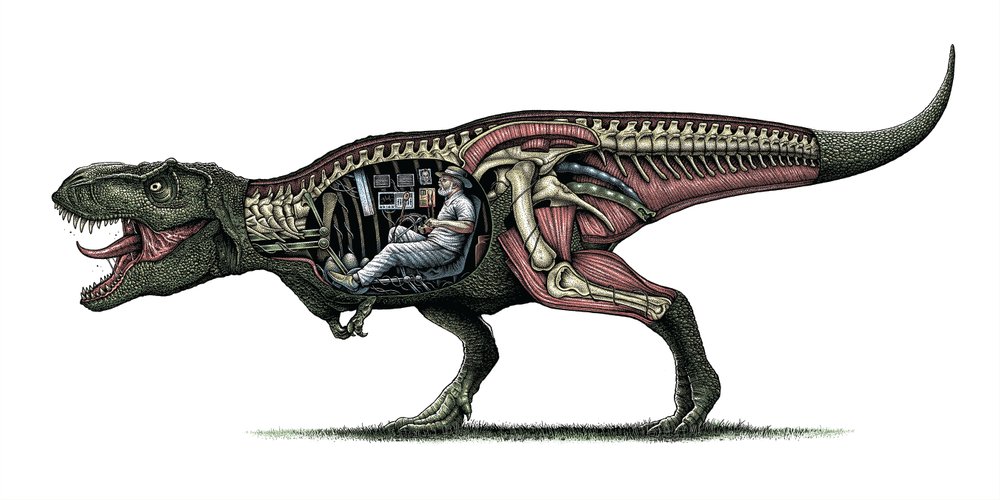 Wu-Tang? That's killer. How has your process evolved over the years since those early projects?
I am way looser now. I used to be quite uptight and get nervous about the projects and how to approach them. Once I realized that the people commissioning me were asking me specifically because they liked my style, I learned to relax and ease into it more. Previously it always felt like I was chancing It and that they may have made a mistake. I wasn't particularly confident. I'm much better at drafting ideas and conveying to the client what my aims are with each project. Making the client understand the visual and the general scope of the execution without them having the same level of imagination you have as an illustrator is a super important skill to have.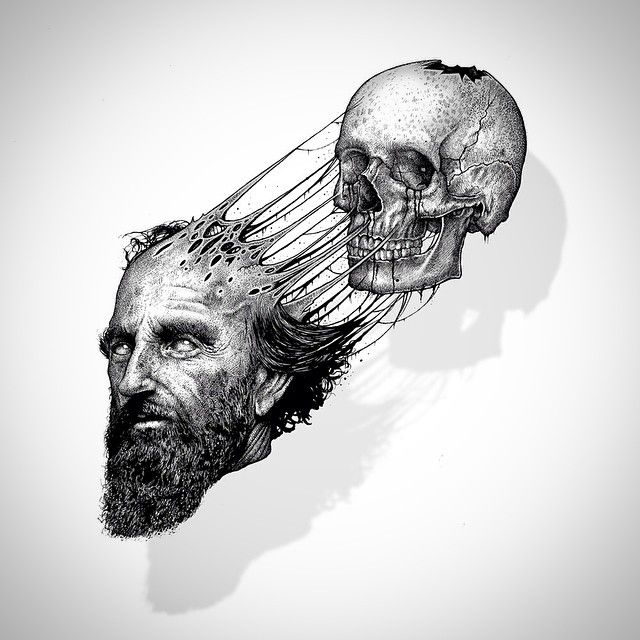 Absolutely. How would you say that you're more confident?
I used to worry about the shape of a page, where the text would go and how the image needs to suit the page. And that is still very important, but I was worried to the extent that it would negatively affect the drawing. Now I understand the space a lot better and can still make a piece work for the piece and myself. I do appreciate my mediums a lot more now. That's something that takes time and practice. I'll be the first one to say I still have a lot of learning to do, but practice and mistakes help you to develop as an artist.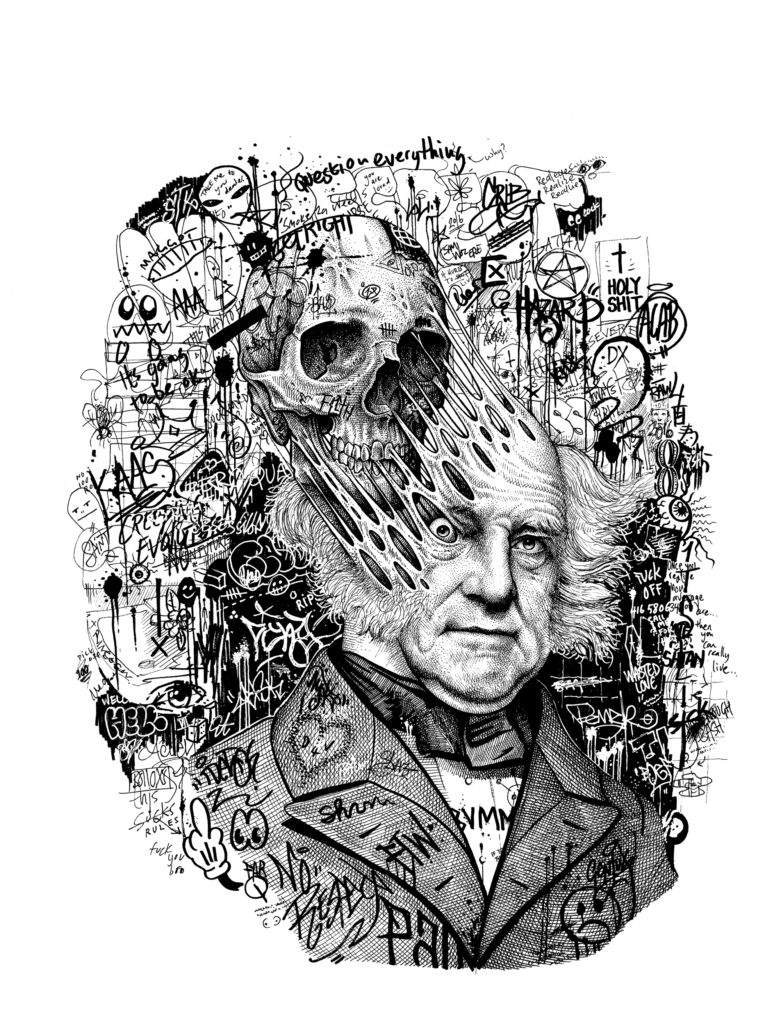 Can you walk us through a typical project you would do with a client?
I usually sketch something super rough to send to the client, not realizing that they might not have the imagination to be able to visualize that to the standard I am anticipating. I mostly have to increase the quality of the rough, which is entirely fair. Then, once we have a rough understanding of the concept, I can start elaborating on the visual side. Most of my work is done by hand, so there's only so far I'm willing to go with drawings when it comes to roughs—otherwise it can be time-consuming and sometimes a real waste of time. I rely on the client/customer to recognize my work and the usual standard of quality, to know that a rough will turn into what they want eventually, but sometimes they can't see that far ahead—which is understandable, but occasionally frustrating!
Once we have a reasonable rough visual agreed upon, I will start creating the final. This might be constructed in Photoshop to create the rough reference—I find this as an excellent technique to get all of  the various reference images in so it's easy to scan through and draw from. Sometimes its a cross between that and my imagination, but it varies from project to project.
Are there any projects you're doing that aren't for a client?
I've always wanted to make a lenticular print or a 3D holographic style print that does not require glasses. I remember getting smaller versions in cereal boxes as a kid and got obsessed with them. They made me really happy. Nothing has changed, and I'm still thrilled with them especially now as they are ten times the size. I'll be releasing the first one in March.
Amazing. You must have so many sources of inspiration. What inspires you right now?
I went to Art Basel in Miami this year, and I got super inspired by scale. I have always flirted with fine art. I made more fine art back at university but fell into more illustrative work. I'm in the process of trying to bridge that gap and have decided to up the scale of some of my work. I love working in ink, but I am pretty handy with graphite to some degree and I'm trying out some large pencil pieces. I've always been inspired by technology and how fast it's moving. I try to have a little element of this still in all my work – it seems to be there whether I try or not. In terms of art influences, it's hard to say. I have a constant stream of inspiration on my phone daily from Instagram. It helps keep me on my toes. I think that's a good thing?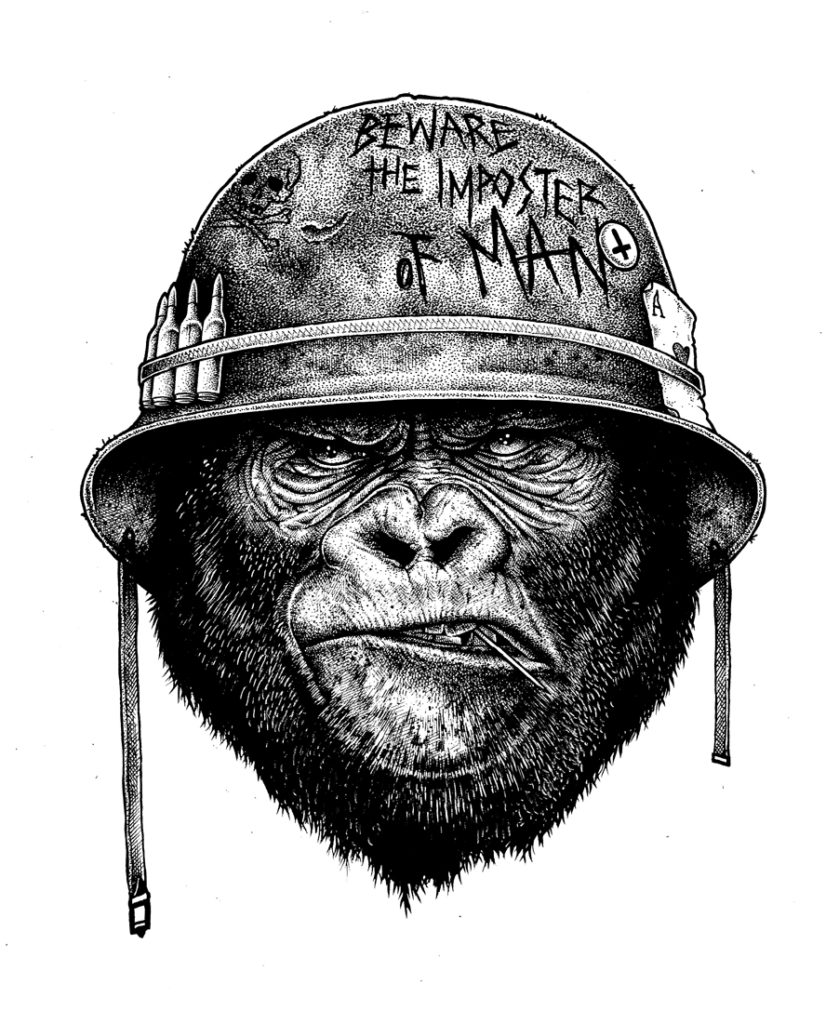 Do you have any advice just getting started in the industry?
To be honest, the industry has changed so much that I'm not really sure I ever "made it" in the first place. I would say I'm in the industry, but there is no right or wrong way to do it. You have to just "do it". Be involved, be interested, and persistent. I don't really know how I got jobs in the first place; it just came to be. I might be doing myself a disservice, but I just loved drawing and creating, and things started to happen. Things can sometimes "unhappen" too. It's an incredible rollercoaster of excitement, anxiety, and self-doubt—but the ups are truly great.
Be sure to check out more of Paul Jackson's work over at his website.