Reading Time:
6
minutes
If you've recently hopped back on LinkedIn after a few years, you might be surprised to find that your news feed is now equal parts job updates and somehow-earnest self promotion from your peers (do they know we can see this?) and random "entrepreneurs" alike. And while we're at it, why did Aunt Judy just hashtag #Like4Like on her last Instagram post? In 2019, many people find themselves toeing the line between two concepts that feel more nebulous than ever: figuring out how to promote yourself feel embarrassing, and building a personal "brand" can be inauthentic and tacky.
But, the good news is that there are strategies that can help navigate this for you. It just depends on what you're trying to get out of it all. With a little self-awareness, you can quickly whittle down the platforms and techniques that will get your name out there best. In order to assemble your bona fide personal "brand," start out by taking stock of what your motivation for self-promotion is. Are you trying to gain press for your new business, or get your name out there as an up-and-coming art director? Maybe you just want more subscribers for your weekly recipe newsletter, or work as a music critic who always has new takes to share?
Whatever you're trying to accomplish, self-promotion doesn't have a one size fits all approach; it's going to look different for everyone. So use the following tips to find and optimize the strategies that will get your work in front of all the right eyes (without having them roll their eyes at your attempt).
#1: Go Where People Are Already Looking
It may seem obvious, but don't overlook the channels where potential collaborators and/or employers are already actively looking for your services.
Apply for Working Not Working to join a selective, top-tier creative community for those working in advertising, design, technology, production, photography, and animation.
Create an Upwork profile to showcase your specific abilities throughout dozens of categories, like Engineering & Architecture or Sales & Marketing. You get to set your own rates as well as create job proposals, so there's no waiting for clients to come to you.
Submit your portfolio to Contently to connect to their curated list of clientele who use their databases to hire designers, writers, photographers, videographers, and illustrators for a variety of content needs.
#2: Get Your Digital Portfolio Up To Snuff
Traditionally, only those in creative and artistic professions have been encouraged to make online portfolios or "books" to display their work. However, most working professionals can actually benefit from one — just build yours on the platform that works best for what you need to get out of it.
If you haven't heard of Squarespace, you've probably been living under a rock — or maybe just conveniently skip all your podcast ads. Jokes aside, the ubiquitous platform reigns supreme as the most aesthetically pleasing and user-friendly website builder out there. Their personal templates are customized for exactly what you're looking for — from community/non-profit projects to online stores, photography sites, and so much more.
Cargo Collective, Behance, and Dribble are all popular and gorgeous options especially for designers and artists to house their work. However, the latter two also serve as networking platforms for users to interact with prospective clients and collaborators.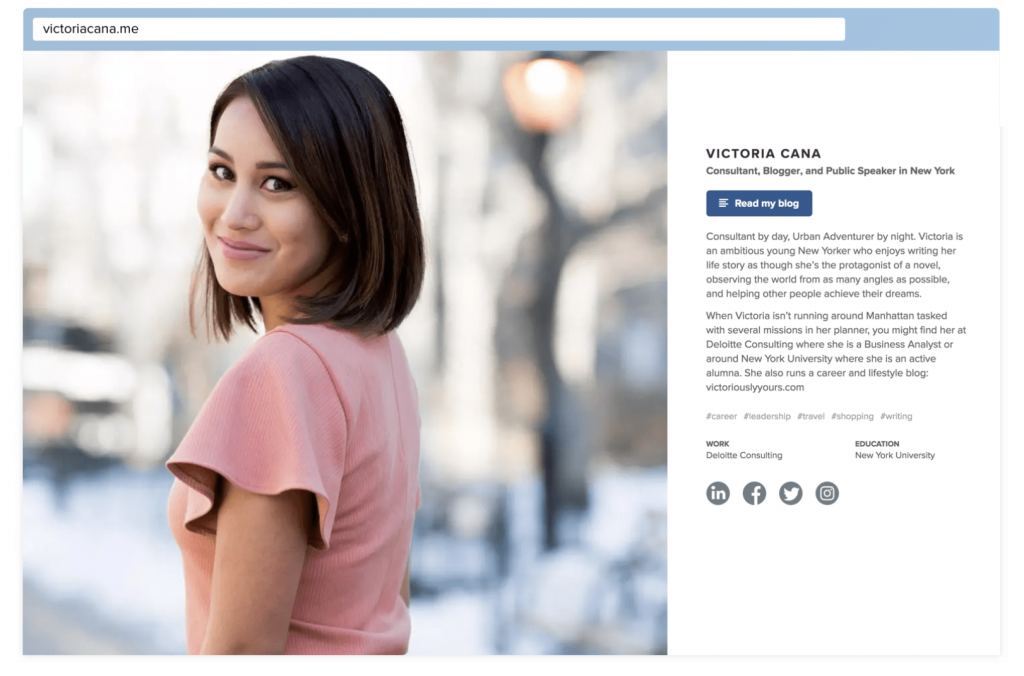 About.me is the most democratized approach, allowing you to create a simple, yet professional page that serves as a virtual landing page to your career and what you're all about — for free. You can add calls-to-action to encourage viewers to listen to your latest podcast episode, capture leads for your weekly newsletter via buildable email list, disclose testimonials from clients and business partners, and more.
#3: Join a Like-Minded Community
If you consider yourself an academic (or maybe just have a curious hobby of reading research papers in your spare time), Academia is the place for you. With over 81 million users (according to the site), this is an ideal place to share your latest work, watch its impact using the site's deep analytics tools, and network with those in a similar field of study from every corner of the world.
For women looking to improve their network, join Ladies Get Paid, a community of 40,000+ women worldwide that provides resources and tools to help women navigate everything from salary negotiations to how to optimize your pitch deck. Plus, their Slack page makes it super easy to connect with like-minded women in your field, or a potential client or business partner.
#4: Find Your Thought Leadership Lane
You don't have to be an illustrious CEO or acclaimed author to be a thought leader in your industry. All you need is a point of view and the right channel of communication.
Share your big ideas on Medium if you've got a story to tell or if it's an especially relevant thought to fit into the current zeitgeist. (We know, we know: zeitgeist. Groan.) Pieces work best on here if they're told from your specific professional perspective — yet are skimmable and broken up with bullets, headlines, and quotes. Showcase your industry expertise by making a persuasive argument foretelling the future of sans serif fonts, or make the passionate argument that vintage-inspired photo editing techniques are coming to an end. If you're seeking a larger audience than your current follower count, you can submit your work to Medium Publication for more exposure across their variety of outlets.
If you've got something to say that's more pointed toward your specific industry, try LinkedIn. Before you automatically dismiss this option, because you're a rational, humble human, and there are some pretty corny LinkedIn articles out there with whom you'd prefer not associate, hear me out. It's actually a pretty simple way to enhance your profile, since your articles are housed right on your page. According to LinkedIn, what works best here is content that is a bit more positive and less provocative than what you might see dominating headlines.
A happy medium between a micro-blogging site like Twitter and longer form like a Blogspot is Pen.io. Just insert a title for your page and a password and your site is instantly created — no templates or coding needed. This resource is ideal if you're looking for an expedited way to create text-based posts that are readily available to share on social.
#5: Amplify Your Work (And Other's Work, too)
Finding that balance of sharing your achievements and pride without coming off as obnoxious or inauthentic can be onerous. Sure, you may get a few eye rolls or unfollows. But since the potential benefit (your next gig! more investors! Peer admiration!) will most likely outweigh the negative here, it's just something you've got to own—for your sanity and your success.
Constantly "link in bio-ing" might seem cringe-worthy (LinkTree is a great resource for Instagram), but if you employ sharing capabilities strategically, it can be worth it. A particularly poignant example of this has been the half-depressing, half-uplifting aftermath of media layoffs. Many of those affected used relevant social platforms like Twitter or LinkedIn to share what's happened, what they're looking for in their next gig, and links to relevant clips or a portfolio site. This can result in peers and strangers alike using the signal-boosting powers of the retweet and share buttons to amplify their work.
Which brings up another relevant point: effective promotion is a two-way street. Think of it as The Self Promotion Golden Rule: promote others as you'd like them to promote you. While all of the tricks and tools above will help get your work in front of those who might not otherwise see it, there's no replacement for being someone that others want to support. And an easy, morally sound way to encourage that is to give the support you hope to one day receive yourself.
Flag an acquaintance's resume if they apply at your company (assuming they're a good candidate, of course). Share your friend's nonprofit fundraiser with pals outside your circle. Dote on your colleague's recent achievements to some higher-ups at your company's next happy hour. Planting these seeds will not only give you a karma boost, but also foster personal and professional connections to lead you to the next latest and greatest opportunity.