Reading Time:
7
minutes
"I love the color palette."
That wasn't the feedback that this freshman design student of color was expecting when he put his painting up for critique inside a Rhode Island School of Design studio. He had been working on a response to the quintessential Old Master motif of Christ being baptized, drawing influence from everyone from Da Vinci to Poussin. He called it, "Waiting in the Lobby to be Baptized," and he's painted other famous artists—including Andy Warhol—right alongside himself in the lobby.
"I'm standing next to someone who's, like, revered, highly—and white," he said of his work in Eloise Sherrid's documentary The Room of Silence. "And I made sure that he was glowing white."
But to his disappointment, his classmates didn't get very far in their formulation of race's function in the work. He was left with that feedback, and little else. "All this other shit that I have in this piece, and you like the color palette?" he said.
This is part of a phenomenon that RISD students describe as "the room of silence," hence the title of Sherrid's documentary. When race or identity surfaces in a predominantly white classroom, white students—and even white teachers—have nothing to say about it. That's because, for the most part, white people don't know, and aren't taught, how to talk about race.
But the difficulties faced by art and design students of color extend far beyond white silence during critique. Here are a few ways in which designers, educators, and students are trying to address some of the current issues plaguing design education.
Who's Learning? Design Students by the Numbers
Design education continues to be rarified white spaces. For a better understanding, consider the number of degrees awarded in Graphic Design by race and ethnicity in 2017:
White students: 5,108 degrees awarded
Hispanic or Latino students: 1,538 degrees awarded
Black or African American students: 757 degrees awarded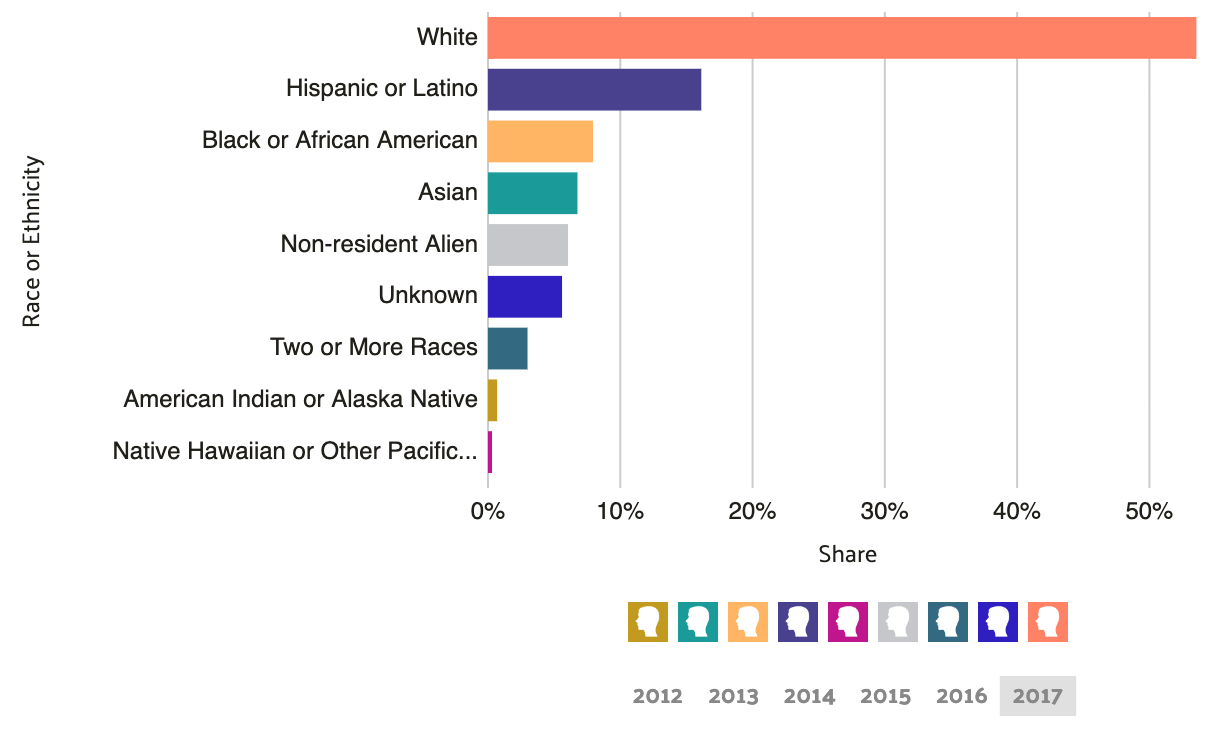 For educators on the front lines, the questions about who has access to design education start early. That's why so many mentorship programs seek to introduce young minds to design as early as possible. For example, Ontario College of Art & Design University's Black Youth Design Initiative seeks to empower young people to make connections and understand how to make an impact through structured thinking. The design school also has a program called Blackreach, which introduces Black preteens to various areas of design with the help of professionals, students, and faculty. Dr. Dori Tunstall, the OCAD dean of faculty who started the program, said in a lecture at Berkeley that part of the power of Blackreach is twofold. Firstly, the program connects design with communities, and secondly, it also connects design thinking to problem solving and leadership.
Experiencing the power of design in family systems is part of the impetus that got designer and architect Aisha Densmore-Bey to start Future Prep 101, a design seminar for high school students. Future Prep 101 seeks to replicate Densmore-Bey's childhood exposure to design—she had an uncle who was an architect, attended a specialized high school for design with predominantly students of color, and then attended a historically Black college to study design. Because of that exposure, she said, "Design was never something that I thought that I couldn't do." Densmore-Bey hopes to provide both students and parents the opportunity not just to see the value of the practice, but also the sustainability of it as an industry worth pursuing. This means also preparing students for the rigorous schedule you have to manage in design school. "It's irresponsible, if they haven't even had an art class, [to] expect them to negotiate the culture of design school," said Densmore-Bey of the current educational pipeline.
Who's Teaching? Inviting in More Faculty
It's not just the students of design that face institutionalized racism—faculty deals with it, as well. "You know, you'd be surprised at how many people are doing design work or design thinking that are outside of formal design departments," said Christina Harrington, a professor at DePaul University, during a panel discussion at Where Are the Black Designers. "We have to really look at what it means to not have that representation, for students to come in and not see themselves."
This is both empowering—that students interested in design can still get an education by forging their own path—but it also speaks to the lack of representation with the faculty in most design education programs around the country. OCAD, for one, has been on the forefront of progressive hiring, and it's made notable reparations to both Black and Indigenous artists through the creation of new tenure track positions.
But OCAD isn't the only school. Preston Scott Cohen, an architecture professor at Harvard's Graduate School of Design, spoke recently about the program's plan to implement new teaching fellowships—this plan would be similar to the fellowship programs already in effect at the University at Michigan and at Rice. "The GSD could truly change course by building a new teaching infrastructure that will have an impact on our school and on other design schools," said Cohen. "The ultimate outcome would be a substantially more diverse student applicant pool."
Cohen acknowledges, however, that in order for these teaching fellowships to successfully support BIPOC designers who deserve to be invited in, they would need to reconsider racist systems of eligibility. "There is a long tradition of hiring excellent but inexperienced recent graduates to teach," Cohen said. "Almost all of the people whose careers begin this way were brought up through a supportive social network that perpetuates the exclusion of Black people. If we want to bring about real change, we cannot only draw in faculty from the usual exclusionary networks and then proceed to mitigate systemic racism by theoretical or pedagogical means."
What's Being Taught? Decolonizing the Design Canon
At Where Are the Black Designers, Tunstall spoke about how the required art history courses—survey courses, in particular—have harmed the BIPOC students at OCAD. Tunstall said that by design, introductory art history courses are "not only not speaking to the beauty of Black aesthetic traditions, but basically shoving down their throats the supremacy of European Swiss male affluent design."
Courses of art and design history often prioritize Western narratives and movements at the expense of others. That's the sorting principle of the introductory art history survey course, and it's why there have been moves in recent years to radically alter the discipline. In 2016, for example, the College Board changed the syllabus for the AP in art history to attempt to address some of the racial and cultural bias of the art world.
But for some, simply including works that fall outside the historically dictated canon isn't enough to help students and teachers find ways of appropriately representing them. The overall consensus from art historians, designers, and their students, however, is that it's time for the fundamentals of design education to change. That's why this past winter, Yale announced that it would be eliminating its popular introductory survey course.
While several critics met the announcement with consternation, Art History Department Chair Tim Barringer wrote a letter in the department's defense, stating that this is a necessary step in finding ways to offer courses that can "do justice" to the diversity of the student body and faculty. "Our vision is expansive rather than reductive," he wrote, "in terms both of coverage and of art-historical methodology."
Yale is not the only institution concerned with the white colonial perspective of the first-year courses. The designer Ramon Tejada, who teaches at RISD, has compiled an alternative open-source reader for design students, which he's titled The decolonizing, or puncturing, or de-Westernizing design Reader V4. The reader itself is a trove of resources—everything from art historical texts to sociology to digital op-eds. In an explanation of why he put the document together, Tejada includes this personal statement:
"As a designer, I have come to terms with the fact that what and who design history has been interested in canonizing, up to this point, does not reflect me, my cultures, my values, and many of the tenets that make me a citizen, a designer, and a teacher. I don't see myself reflected in much of the narrative of design—not in the history, the theory, the practitioners or the outcomes…"

— Ramon Tejada, "WE MUST TOPPLE THE TROPES, CRIPPLE THE CANON," WALKER ART CENTER SOUNDBOARD READER, JULY 2018.
Ramon's argument is that decolonization can only happen when people who have been oppressed under systems of white supremacy are invited to lead the conversation. "For me," he writes, "decolonizing is about making space (sometimes taking space…) to allow people that look like me (especially BIPOC people) be active and essential participants around the table." He goes on to stress that lasting change will only happen over time: "This will not happen overnight, in one class, in one syllabus. This is a long and slow process. A collaborative process that demands we all work on this."
What's Next?
In early September, the designers and educators Kelly Walters and Anoushka Khandwala published a conversation on Eye on Design in which they talked about their personal experiences navigating tokenism in design and creating community in design education. At one point in the conversation, Khandwala drew a distinction between the pervasive racism in British and American universities. "Within UK institutions, the racism is so insidious, there's a lot of 'white silence,'" she said. "They never say what they think."
Of course, as The Room of Silence shows, there's white silence in American design institutions, too. But Walters didn't argue that point. Instead, she hammered home the difficulty of trying to generalize anything in the U.S. "The culture in the U.S. is vast," she said. Rural and urban environments, North and South, conservative and liberal, public and private—all these distinctions of region and class make for very different cultures of talking about race. "Extremely progressive schools [are] making anti-racism demand lists," she said, "and others haven't gotten to that point. When we talk about dismantling and rebuilding these institutions, they're all on different timelines and some have more work to do structurally than others."
Both Walters and Khandwala have hope that change is possible. For Walters, she hopes for visibility and for conversations to create greater understanding. "Seeing the range," she said, "of podcasts, exhibitions, public lectures, roundtables, publications that have and continue to be created, gives me hope."
Khandwala hoped for change in the way that only a designer could—through shape. "There's so much of both university and social justice culture where we try to box things into these weird binaries," she said, "instead of acknowledging that there's a spectrum of experiences rather than a hierarchy. So, I hope for more circles and less grids."