Reading Time:
4
minutes
"I can remember when they landed on the moon. That was a massive event in my life. All my dreams were about the future…What I wanted to do is be able to have things that don't exist." -Marc Newson, Objectified, 2009 
The term "industrial design" was first used in the 1920s to describe the convergence of technology, art, and manufacturing that went into the creation of every day products. And for industrial designer Marc Newson, the only designer to be represented by the esteemed Gagosian Gallery, this delicate convergence, this blurring of beauty and science and user experience, is at the heart of his work.
The O21C, created for Ford, was named best concept car at the 1999 Tokyo Motor Show. The design focused on the most basic components of an automobile while making each standout with Newson's signature neo-modernist style.
The Ford 021C Concept Car | 1999
"My career didn't start after art school, it started when I made my first object in my grandfather's garage," said Newson in the 2009 Gary Hustwit documentary Objectified. "I remember my uncle said as soon as I could tell time he'd give me a wristwatch. So I figured out how to tell time, he gave me this wristwatch and promptly pulled it to bits. I went out to my grandfather's garage and found an old bit of plexiglass and started kind of hacking away at this bit of plexiglass, drilling holes and transplanted this movement from this once-working watch into it. That was my first sort of design, I guess."
This modular sneaker pushed the boundaries of sneaker manufacturing processes and continues to be a favorite of Nike CEO Mark Parker. The design features four interlocking, interchangeable parts: the outer cage, the interlocking outsole, the inner sleeve, and the insole, which can be worn in multiple combinations.
Zvezdochka Sneaker for Nike | 2004
But what, ultimately, fuels this understanding to crossover artistic vision with mass manufacturing expertise that has come to define Newson's futuristic style?
According to the designer himself, it all comes down to the oft-cliched, but nonetheless critical ability to get out of your own way and channel experiences into the work you do: "If somebody asked me about my inspiration I would say that it's not the people, and it's not the things, it's travel and experiencing different environments," he once said.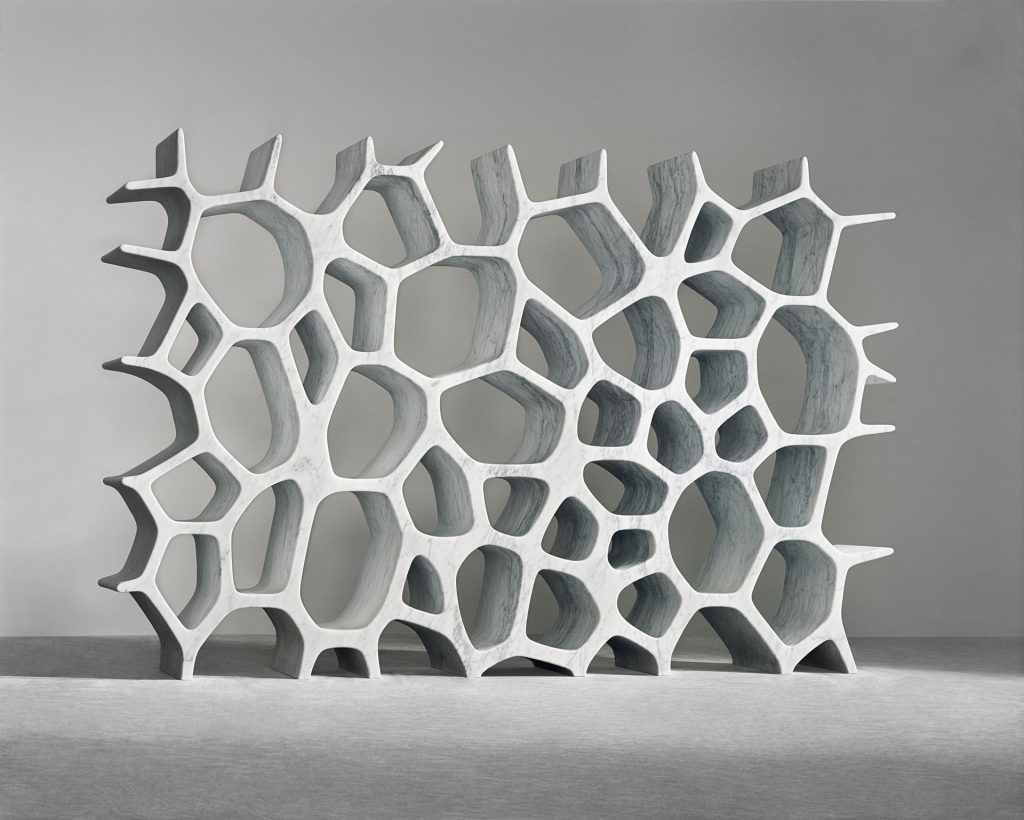 Voronoi Shelf | 2007
In recent weeks the Australia-born designer has been in the news as word spread that Jony Ive—famous for shaping the look and feel of Apple design since the '90s—announced that he is leaving Apple to start the design firm LoveFrom alongside Newson. 
Drawing on the contemporary Aquariva and its predecessor of the 1960s, the glamorous Aquarama, Marc Newson fused the classic Italian model with his streamlined and forward-looking style while preserving its characteristic features.
The Aquariva | 2010
While many industrial designers, including Ive, may spend an entire career focused on one or two particular types of products—and a limited amount of materials or manufacturing processes as a result—Newson has managed to craft a career dabbling in a vast range of materials, manufacturing processes, and industries. All while remarkably maintaining his unmistakable signature neo-modernist aesthetic and pushing the boundaries of artistic vision and manufacturing capability through nearly every project. His Murrina glass chairs released earlier this year, for example, had no less than six in the limited collection at launch—a feat considering the complexities involved to manufacture them, which could then be scaled out based on demand.
The 486 by Marc Newson is a respectful re-interpretation of the traditional side by side with an innovative technological solution: the wood-bridge.
The Beretta 486 | 2014
While Newson has been operating a design studio of his own name since 1997, he has held the position of Designer for Special Projects at Apple under Ive since 2014. His core contributions to the company led to the Apple Watch, which was released the following year. But the designer's deep understanding of manufacturing and ability to tap into various industries reaches far beyond Apple, and is perhaps among the reasons why Ive, who has been focused on Apple for the past three decades, might find the partnership with Newson so valuable.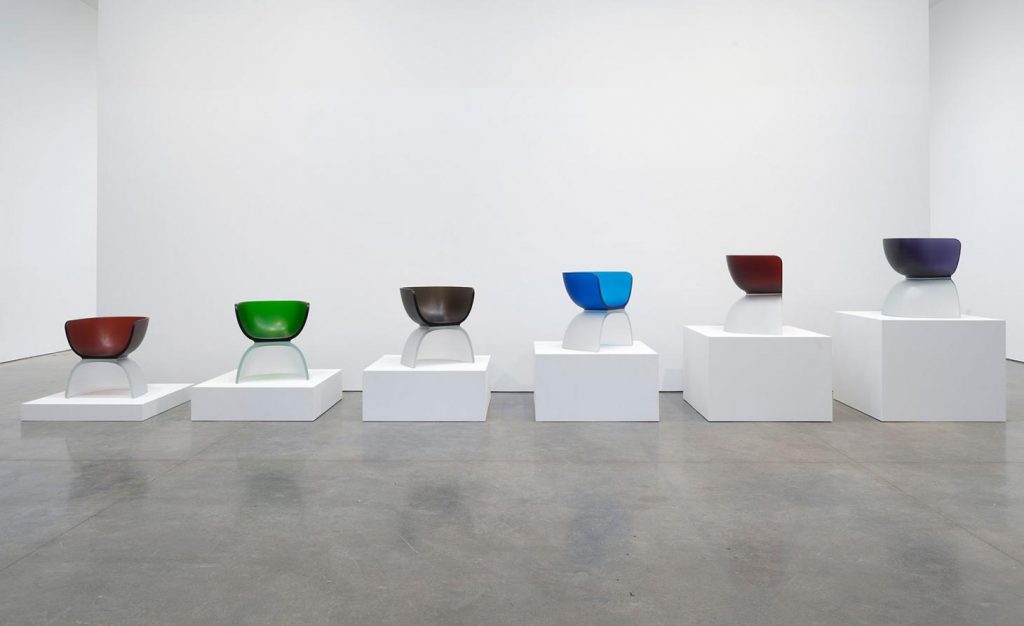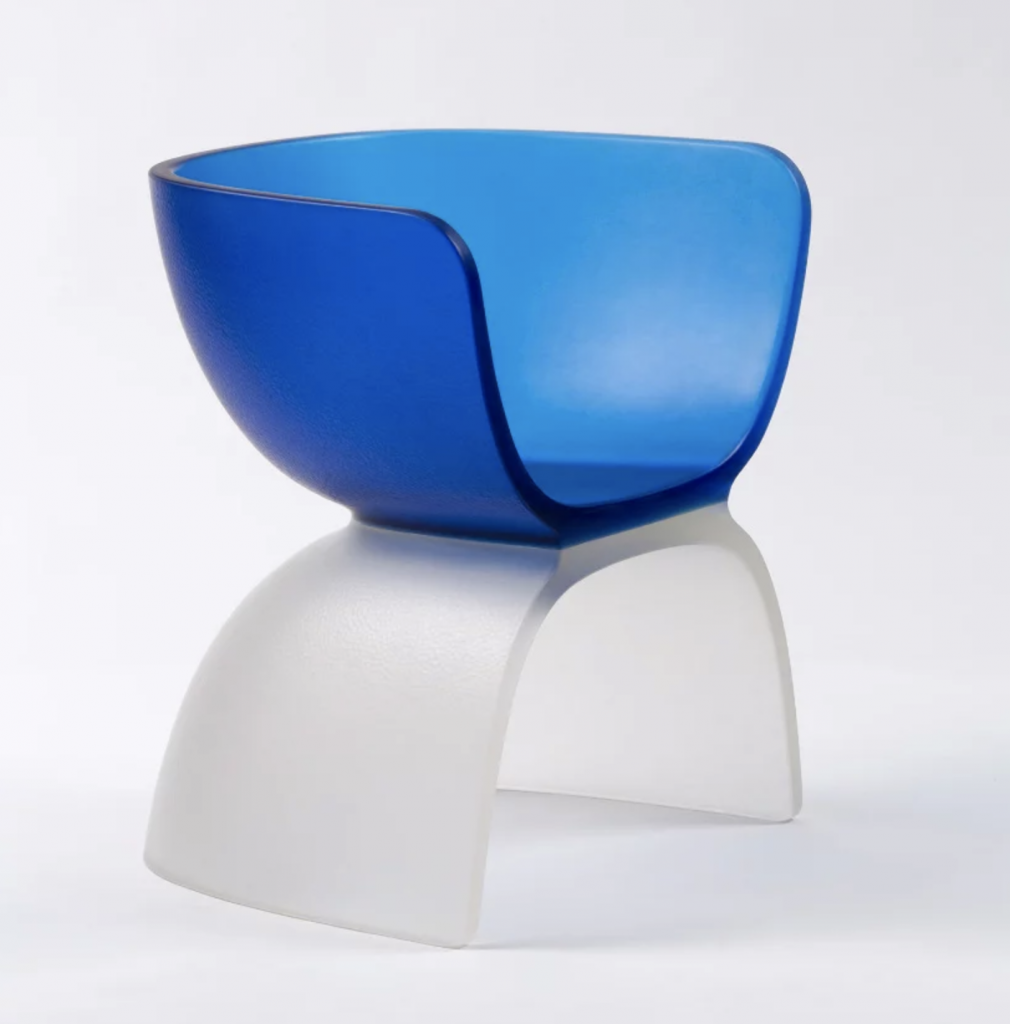 Cast Glass Chairs | 2019
"There is only one place in the world you can cast pieces of glass this big," explained Newson in a January 2019 Architectural Digest interview, referring to his Cast Glass Chair designs, which were molded in the Czech Republic and debuted at the Gagosian Gallery in New York. The two-tone glass chairs, formed by impressively large glass molds, appear meticulously carved and smooth like a handmade sculpture—but instead, they are designed to be scaled out through mass production. "You could speak to 99.9 percent of glass manufacturers, and they wouldn't have a clue how to make this. It's almost a technical impossibility, and to get to this point, there is a huge failure rate."
Aside from working with Apple to shrink the iPhone into a wrist-mounted device, and creating Gagosian-worthy chair designs under his own name, Newson has also channeled his unique, future-forward aesthetic through various product design partnerships and a wide understanding of different materials with major companies including Louis Vuitton, Montblanc, Hermès, Nike, Hennessy, Dom Pérignon, Jaeger-LeCoultre, Beretta, and G-Star, to name a few.
As for what's next for Ive and Newson, expect them to uphold the principle that fine art and mass manufacturing can be nearly inseparable.