Reading Time:
7
minutes
Any marketer can attest—locating online audiences for a brand or product can be mind-numbing work. But when it's done right, it can be extremely rewarding. As digital media consumption surges across all channels, so does the task of piecing together all the disparate audience data to source new marketing opportunities.
SparkToro, a new "Audience Intelligence" platform from Moz founder Rand Fishkin and Casey Henry, is capable of sifting through heaps of audience data from multiple channels automatically. It aims to make what was once tedious, time-consuming manual work possible with a simple click search. The platform's robust search features allow users to find new marketing opportunities from engaged audiences almost instantaneously.
But what are the strengths and limitations of such a tool? While you may be able to gather audience insight like never before, you still need to piece together a sound marketing strategy for it to truly prove its worth. So, is SparkToro even the right tool for you?
First, let's take a look at how a new audience intelligence platform from the people who brought you Moz even got started. 
Rand Fishkin — The Wizard of Moz
As the former CEO and founder of Moz (previously known as SEOMoz), Rand Fishkin took a small two-person operation (himself and his mother) and built it to become an industry-standard platform over 10 years. He stepped away from his role as CEO in 2014, remaining on as an individual contributor before leaving in 2018 to focus on other projects.
Moz is an end-to-end software tool that gives digital marketers a complete suite of SEO research and tracking tools for managing SEO campaigns. But the influence of Moz on the larger marketing community extends beyond its toolset.
Among other products that came out of the Seattle-based company over the years was one of the industry's most comprehensive, up-to-date libraries of resource content. This commitment to consistent, high-quality content led to Fishkin's celebrated "Whiteboard Fridays," where he picked a trending topic and broke it down with real-time whiteboard drawing. Not surprisingly, Fishkin built up a wide following over the years as a thought leader in marketing. The guy clearly understands how to build an engaged audience.
What is audience intelligence and why does it matter?
While market research has existed in various forms forever, its processes were often time-consuming and expensive for small businesses. Sure, a company the size of Starbucks can easily deploy dedicated teams to scrape geographies and trending hotspots to pinpoint its ideal audiences and customize its product offerings, but this isn't feasible for most businesses.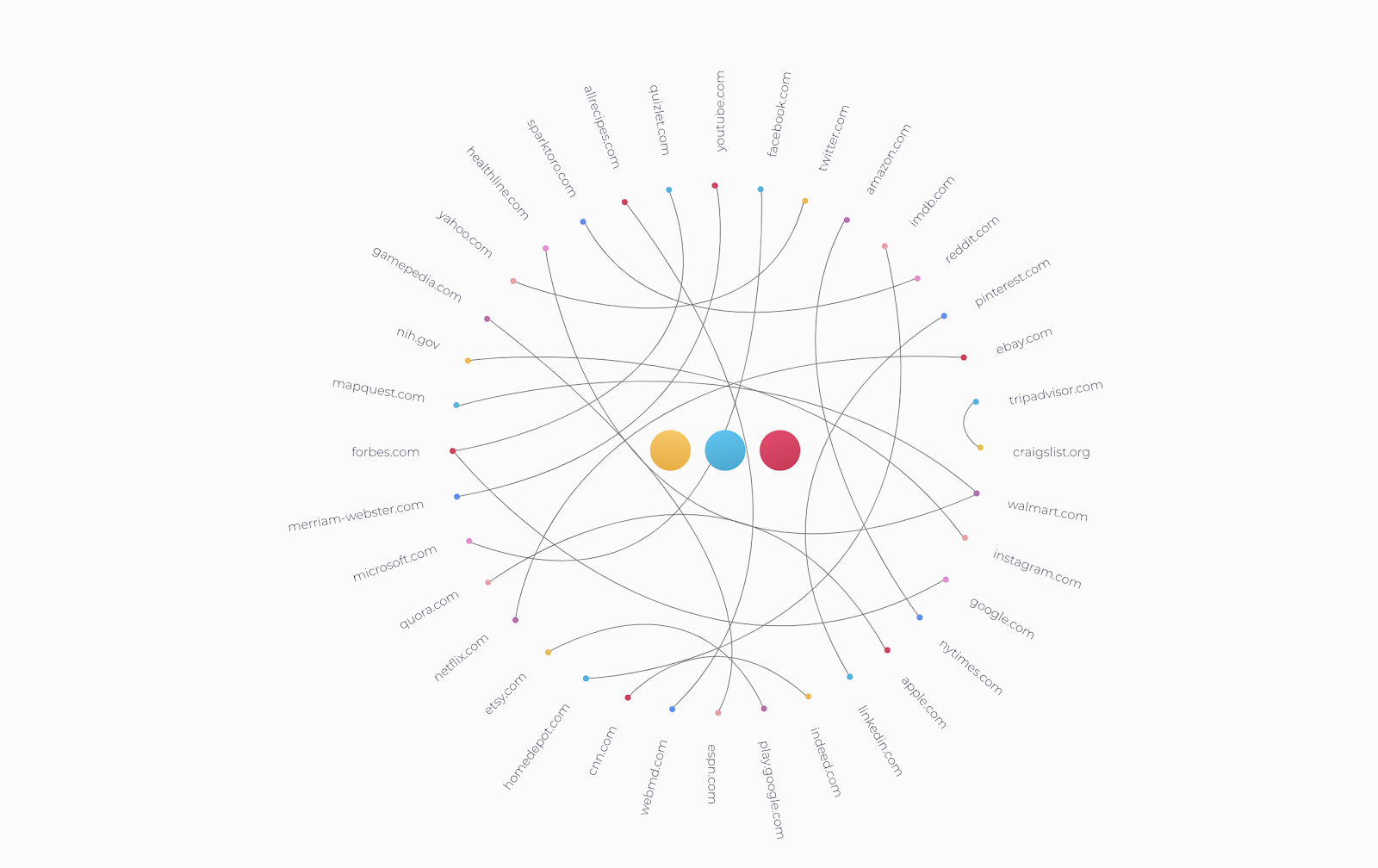 That's why it's easy for marketers to default to Google or Facebook Ads and variations of targeting across different ad creatives. But in doing so, the options can become limited. You're at the mercy of the algorithms, whether they're effective or not. Instead, why not go to where your audiences already are—where they want to spend their time and attention?
What does that look like in action, when an engaged audience is met with a marketing message?
When Kylie Jenner posts new makeup products to her Instagram feed, they sell out in mere seconds thanks to her legion of dedicated followers with expensive makeup habits. When Kevin Hart announced a 5K run in Houston sponsored by Nike Run Club to his Twitter following, the event sold out in less than a minute and thousands laced up to join the comedian by way of the Swoosh.
The exciting part of all this is that influencers and content creators don't just exist as celebrities with follower counts in the millions. They're the bloggers, the podcasters, and video creators with small but dedicated followings. The hardest part for marketers is finding the right ones to amplify their message.
Enter SparkToro.
Using SparkToro for Market Research
SparkToro's founders described by it as a "tool to do better marketing" by "quickly and accurately identify(ing) where their audience spends time and pays attention, so marketing efforts can be better targeted and more effective."
In other words, it aims to help marketers find new opportunities using neatly-compiled audience data that otherwise would have been an extreme chore to source manually.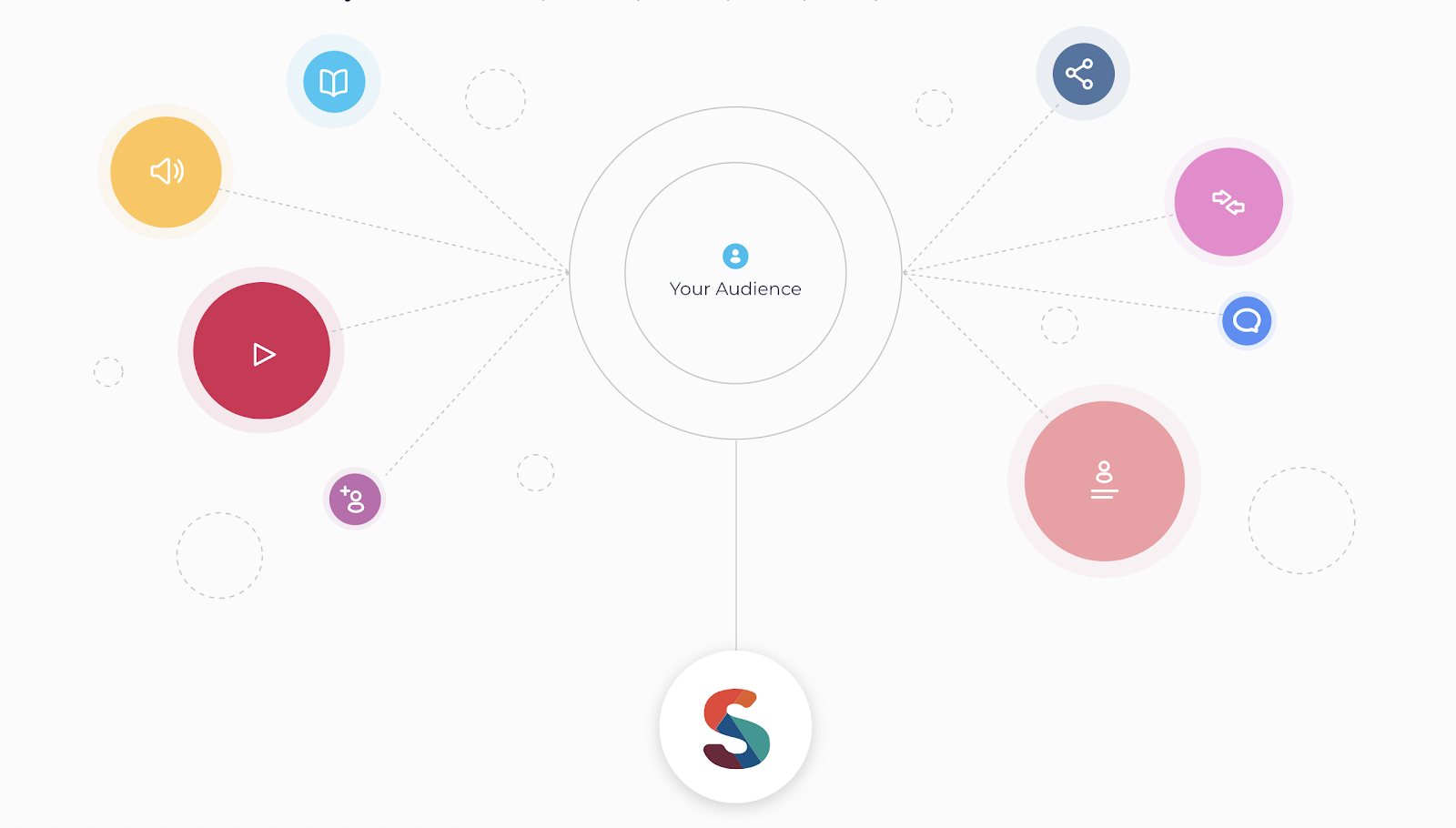 The insights gleaned from a SparkToro search can reveal opportunities for marketing investment outside of traditional paid digital marketing channels. There may be partnership opportunities, guest editorials, content contributions, endorsements, competitor research, and organic references where audiences are likely to be influenced more strongly.
Jumping into the SparkToro Platform
When you first open up SparkToro, you're presented with a relatively straightforward search bar and a quick tutorial: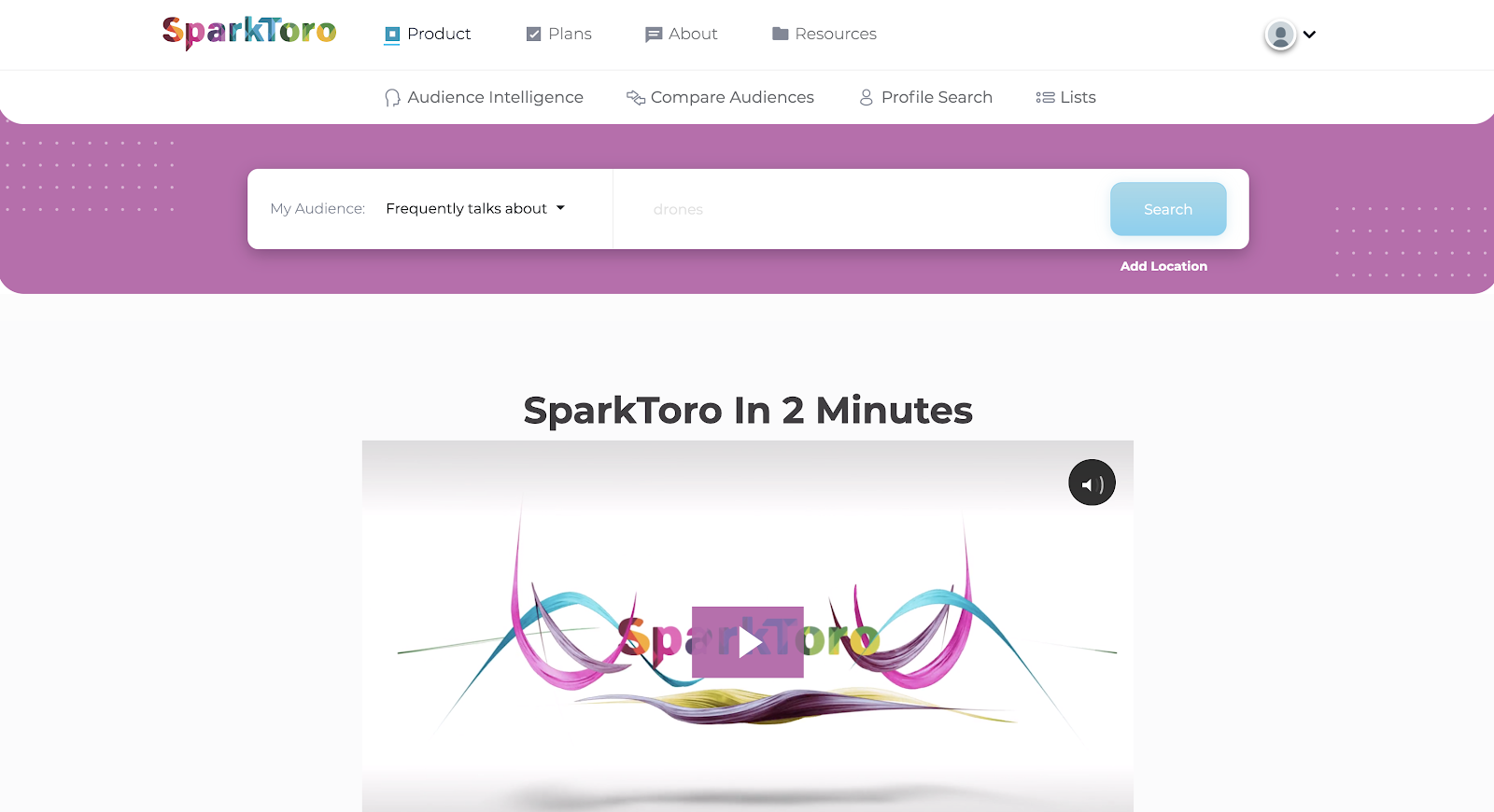 You've got a few different options to boil down your search and distill only the most valuable information based on your audience needs. These options include:
Frequently talks about
Uses these word(s) in their (social media) profile(s)
Follows the social account
Frequently visits the website
Frequently uses the hashtag
This wide scale of search options allows content marketers, social media marketers, SEO marketers, and PR folks to pull data quickly from a vast array of targeting opportunities.
How accurate is this data? After a few randomized searches on topics we're particularly passionate about—pinot noir and meditation apps—it's safe to say that SparkToro is trustworthy.
Let's take a look: in a search for those who frequently talk about pinot noir, the SparkToro database contained 9,832 matching sources across various social media accounts (including a subsection of those with high engagement but less popularity), a list of frequently visited websites, podcasts followed, YouTube channels subscribed to, geographical data, and common words or phrases used by this audience. The platform treats each entity or person as a single source, whether or not that source consists of a single Twitter account or 10 social accounts and websites. So, it's up to the user to dig in and see where opportunities might exist for each source provided.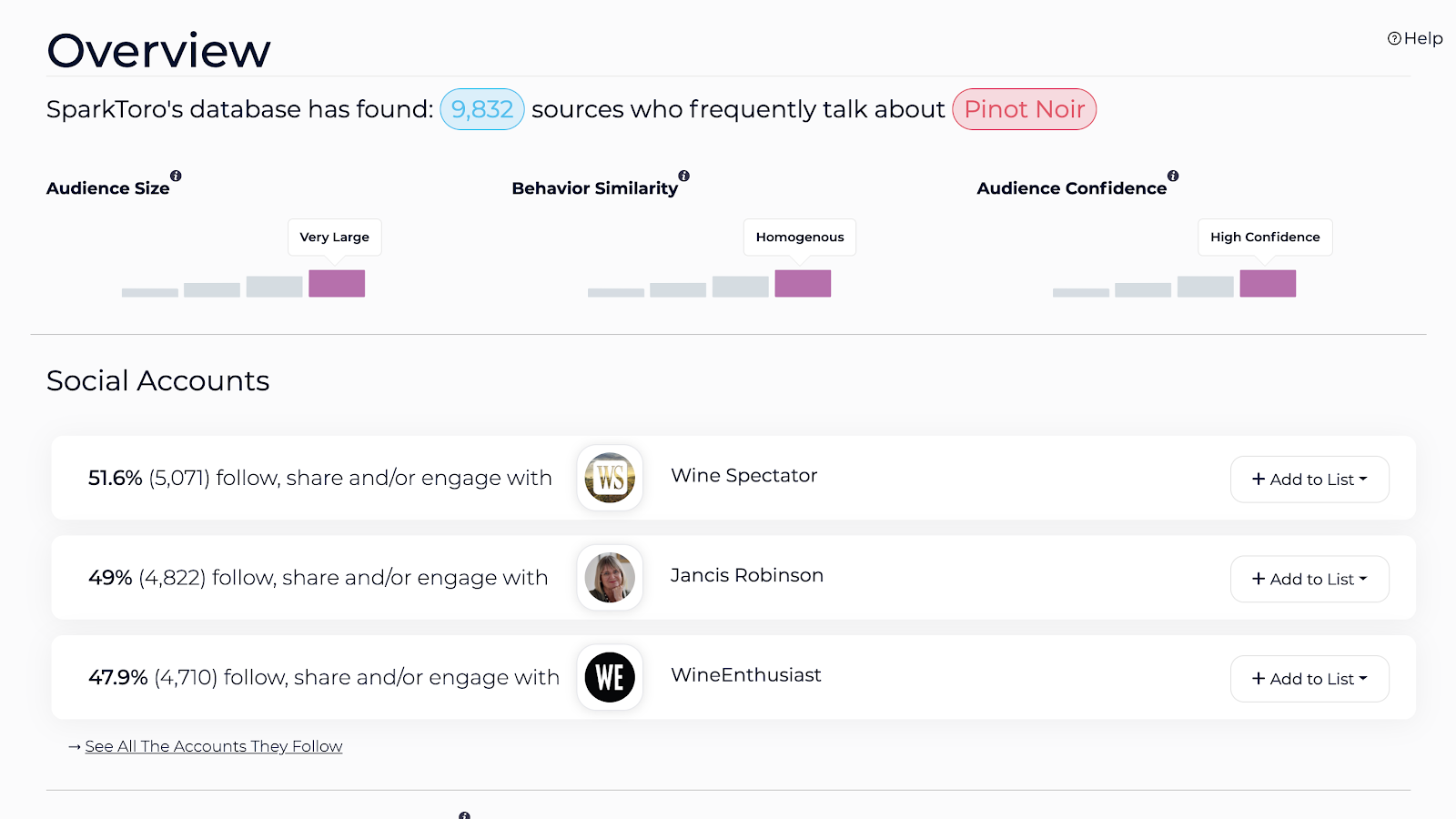 If we were a consultancy presenting marketing opportunities for a wine producer, this search essentially unveiled both our opportunities for sponsored content or podcast appearances, and also our audience-targeting opportunities for a Facebook or Instagram campaign.
Now, let's take a look at the meditation app Headspace. But this time, we'll parse our search to look at those who frequently visit its website, with the goal of finding out the podcasts or YouTube channels frequented by this health-conscious audience for a potential guest spot to promote a new juice brand: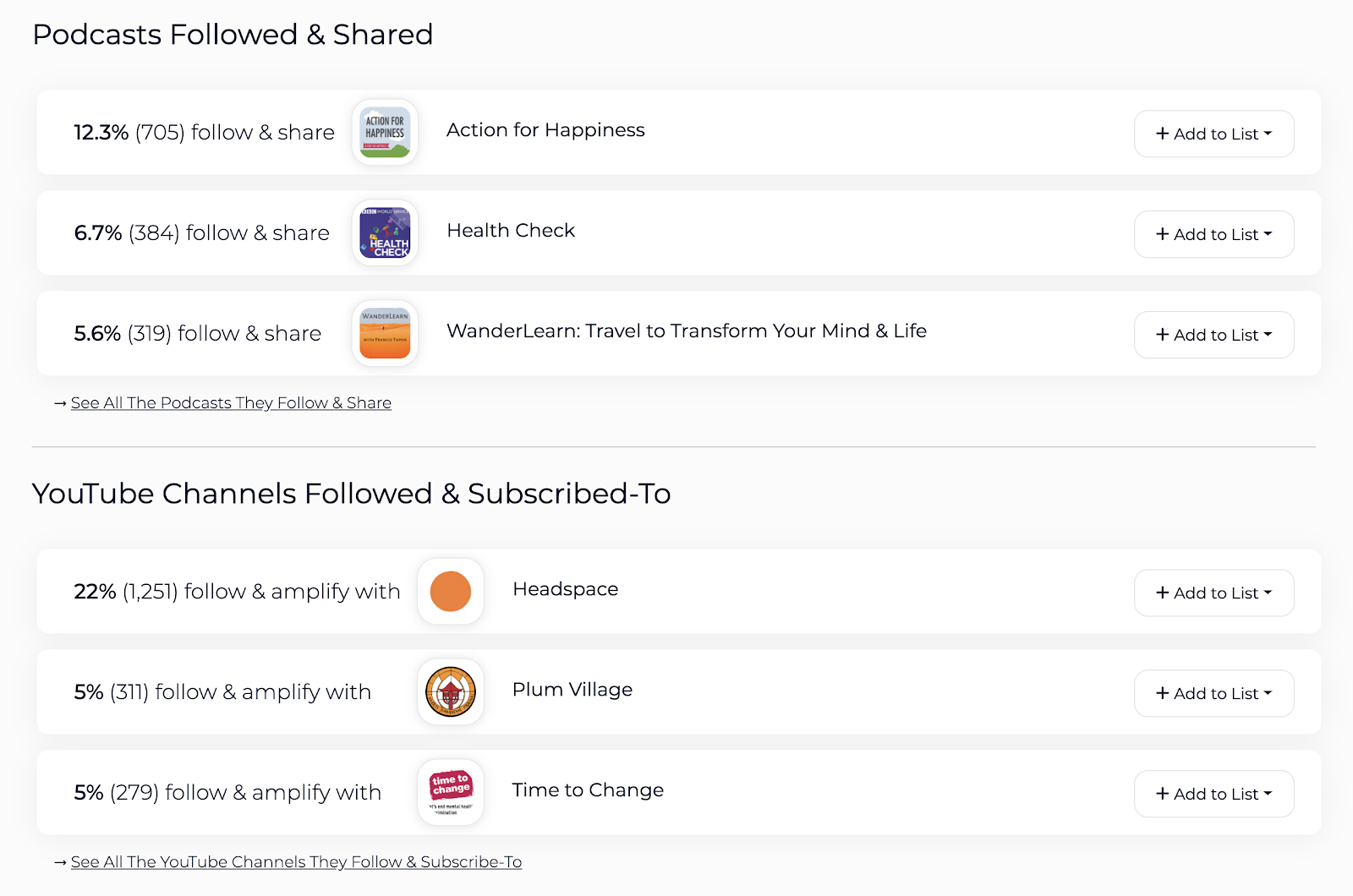 In total, SparkToro's database sourced 5,710 accounts, with a few hundred of those containing podcasts, websites, YouTube channels, and social accounts to follow up or engage with. We can even go one step deeper to compare audience overlaps between meditation and juice interests for even more detailed targeting: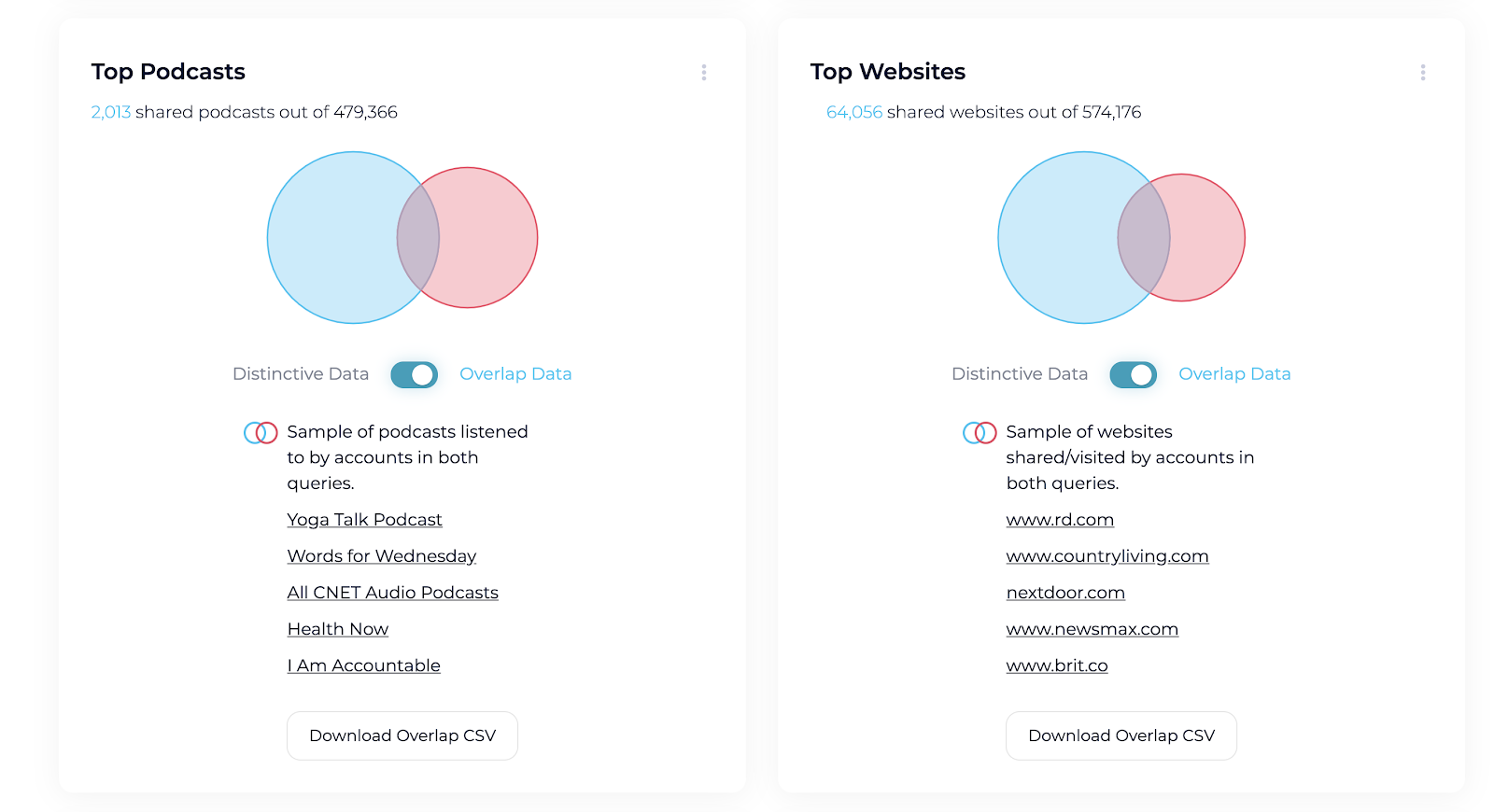 Even more powerful, we can take any of these subsets and create new lists with a .csv export—meaning this data can be easily exported and shared with others to use for outreach and contact management.
What else can you do with the tool?
"My favorite pro tip for SparkToro right now is this: look through your own site's Google Analytics to identify a source of referral traffic that's sent high-converting visitors," says Fishkin. "Then, plug those sites into SparkToro, and you've got a list of other sources of influence followed by a similar audience, and a lot of stellar opportunities to drive more quality traffic."
SparkToro Pricing
Similar to other online marketing tools, SparkToro's pricing is offered at monthly and annual discounted rates.
The free tier allows for up to 10 searches a month (with limited sampling), while a Basic subscription comes in at $150 a month (or $112/mo with annual billing). The Premium subscription comes in at $300 a month (or $225/mo with annual billing), and the mighty Unlimited subscription comes in at $600 a month (or $450/mo with annual billing). The key differences between each are the amount of searches allotted per month and users per account.
For those that need a one-time use for a specific audience, there is also a $450 7-day access option. This might be ideal for consultants and agencies who can then bundle the research into a larger package.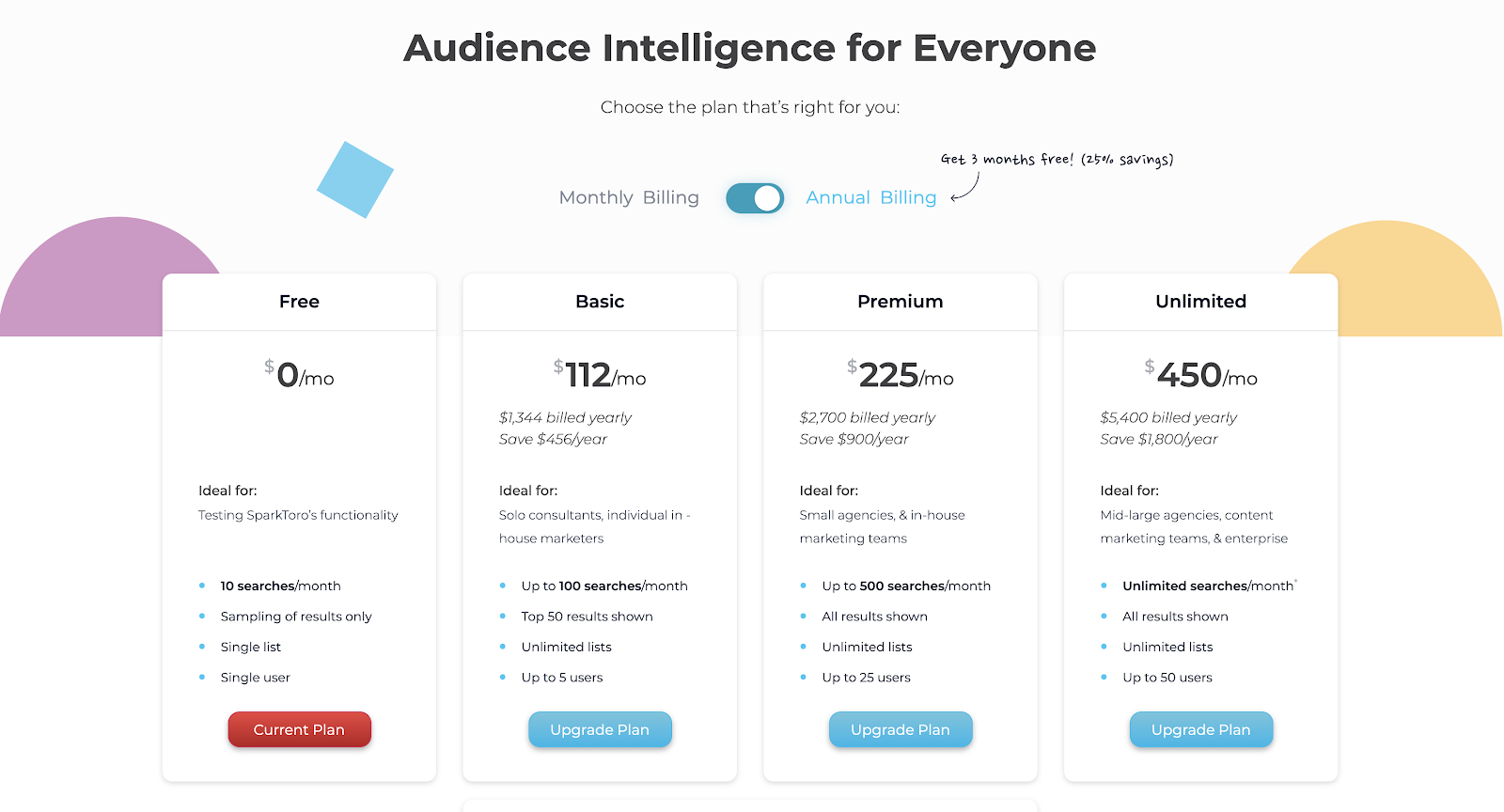 Surely, this isn't a cheap subscription. That said, considering the hours saved from doing this labor yourself (or paying somebody else to do it), the cost and accuracy of SparkToro make it a compelling case for consultants, agencies, and companies who frequently build audience lists for various marketing opportunities.
Who would get the most out of SparkToro, and who is it NOT for?
SparkToro isn't for everybody, and will likely end up in the heap of unused expensive marketing tools if it's not directly incorporated into a cohesive marketing strategy. That said, if it is used to its full extent for building audiences, it can be an invaluable source for finding new marketing opportunities and getting "outside of the box" of Google or Facebook Ads.
"We've seen folks across the marketing and market research spectrum use SparkToro to build personas for their products, to pitch their clients or teams on where to spend sponsorship dollars, to find opportunities for guest editorials and guest appearances, and even to find speakers for events/webinars," Fishkin says.
Specifically, SparkToro is ideal for:
Content Marketers: For identifying audiences for content amplification, guest blogging opportunities, backlinking, and campaign optimization.
Social Media Marketers: Locating high-engagement audiences, influencers, or hashtags to better target, amplify, and measure campaign performance.
SEO Marketers: Build lists of websites for guest posting and backlinking opportunities for targeted and engaged audiences.
PR Folks: Build targeted pitch lists across multiple channels at the click of a button and easily export contacts to .csv files for outreach.
And who is this tool NOT meant for? People who aren't expecting to follow up with taking action using the data. Instead, it should be thought of as an entry point for a larger marketing strategy. In other words, if following through and making connections isn't in your stack of cards, this tool is most definitely not for you.
So if you or your company find yourselves with any of the above needs to build out new marketing opportunities, it's safe to say that SparkToro will be an invaluable resource to add to your toolkit.