Reading Time:
3
minutes
You would be forgiven for throwing your hands up when trying to figure out the best app for sketching and illustration on an iPad. While a basic, free note-taking app might be all you need for simple thumbnail sketching, the wide array of apps developed exclusively for professional design and illustration workflows offer a seemingly bottomless toolbox for upgrading your digital sketching.
For anyone looking for the most powerful sketching, painting, and illustration app ever designed for a mobile device, Savage Interactive's Procreate is still where it's at. Even Apple thinks so: the company named it an Apple Design Award winner several times as well as an App Store Essential.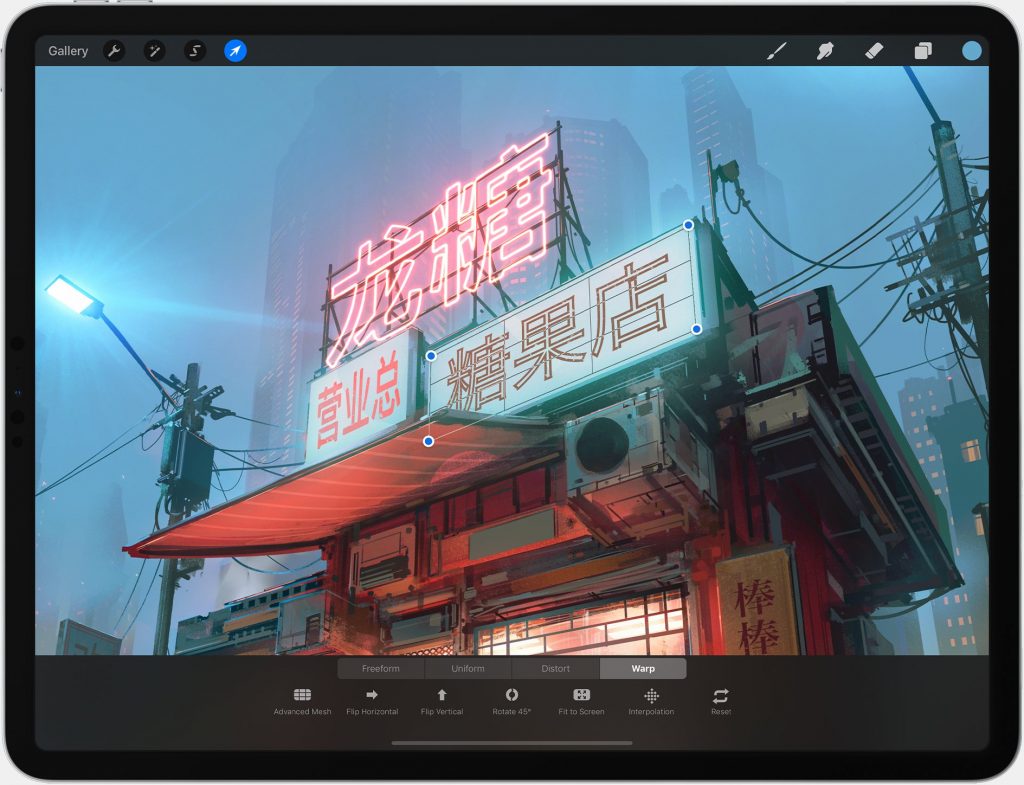 "Procreate lets you generate high-caliber artwork at a blistering pace using a robust layering system, stunning filters, and thousands of importable brushes," Apple gushed in a recent Editor's Choice review. "Plus, Savage Interactive's super-intuitive app supports pressure sensitivity and Apple Pencil—as well as iCloud Drive and a seamless video recording of each brushstroke—so sharing your work is incredibly simple."
And with their latest release, version 4.3, Savage opened the hood and added Text and Typography functionality to their already stuffed pro illustration toolkit. The result is a powerful addition to the mobile designer and illustrator's bag of tricks.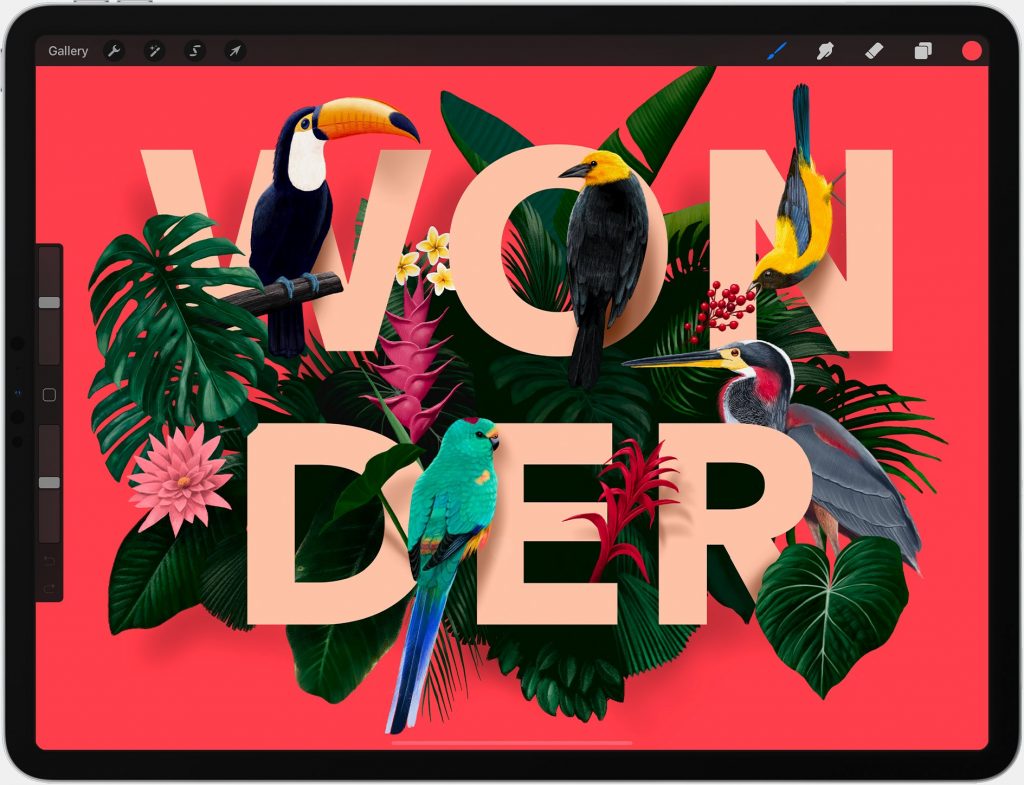 Leveraging Apple's Metal graphics processing engine, which first debuted in iOS 8 and has since become standard in graphics engine capabilities, the app allows for designers and illustrators to warp, stretch, and manipulate letterforms with pinpoint precision. When combined with the perspective, isometric, 2D, and symmetry visual guides, designing with text on-the-go now is now an option. Previously, Adobe Illustrator had been the tool of choice for type designers—meaning, that the most "unplugged" one could get still involved lugging around a laptop and charger. And although Procreate is indeed a raster-based illustration app, the new typography feature begins in vector format before switching to raster if it is to be incorporated into a more traditional Procreate illustration.
The update makes use of all of the standard iOS fonts and ships with three additional typefaces. Users can also add their own custom font families using a simple drag-and-drop procedure.
But just as powerful as the new tool is the price of entry. Adobe plans to respond with a competitive tool, but that will require users to sign up for a Creative Cloud subscription, which sets users back at least $20 per month. Procreate can be fully owned with a one-time purchase of just $9.99—assuming one already owns an iPad.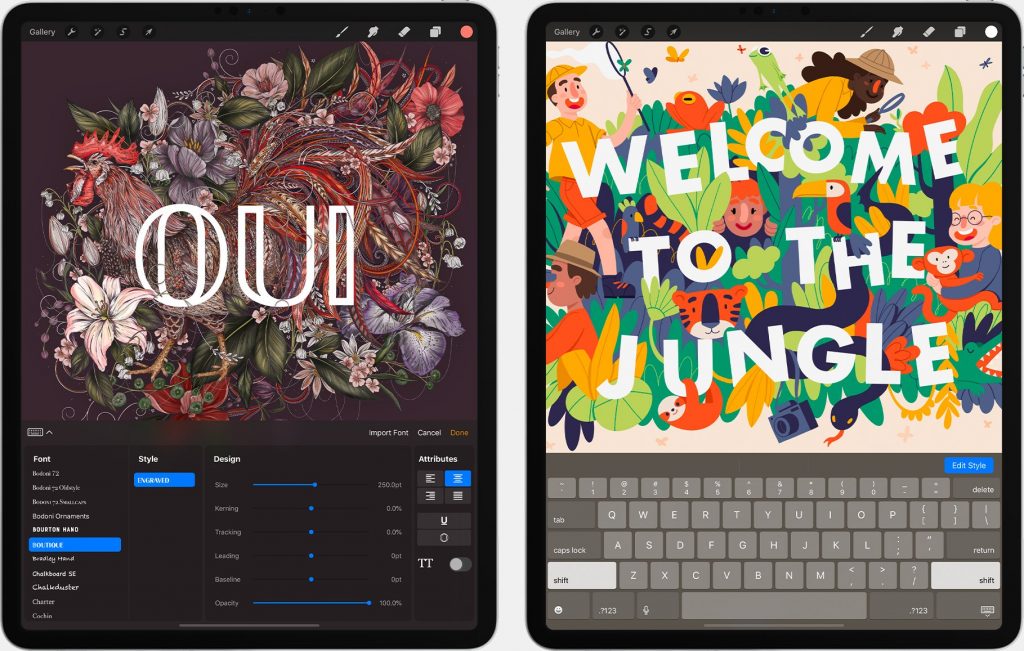 "The guiding principle of Procreate is to preserve the natural feeling of drawing and painting above all else," explains the company. "(We) re-imagined Text tailored to an illustration mindset and integrated into the multi-touch environment as smoothly as the rest of Procreate's tools. It's powerful enough for professionals, yet simple enough for everyone to use."
For those looking for another creative tool to dive into, or simply want to explore type design and illustration on the iPad, there's never been a better time to dive in to Procreate. Or as Savage states in their product description, you'll never be lost for words again.
Procreate requires iOS 12.0 or later and is available for $9.99 over at the Apple App Store.