Reading Time:
4
minutes
You don't have to look hard for stereotypical representations of New York, but the real essence of the City can only be found in the cast of characters you find on its streets. Eccentric New Yorkers—from Washington Square Park to Coney Island—are an integral part of the city. And wherever they are, you'll find a guy with a camera not too far behind: Nicolas Heller, better known as New York Nico.
Armed with an iPhone and a penchant for small talk, NYC's "Unofficial Talent Scout" spends his days on the block, capturing the people and stories who otherwise might never find their way to social media. People like Larry the Birdman of Washington Square Park, who regularly covers himself in pigeons (and considers them his friends), or Tiger Hood, who makes a personal driving range out of a club, a few small milk cartons, a bucket, and an alley in SoHo.
Sharing these stories on his Instagram—often multiple times per day—has given the 33-year-old's followers (over a million of them) a unique view of this unique city. Nico has turned his Timbs-on-the-ground approach to social media into something more like documentary filmmaking. 
Now, New York Nico is expanding his creative scope: at this year's Tribeca Film Festival, he released his first short film, Out of Order. It follows an increasingly desperate New Yorker, played by actor Kareem Rahma, as he races around the city looking for a restroom, running into a few of Nico's favorite subjects along the way.
A pass to stream the film, as well as the rest of the festival's shorts, is available for purchase streaming here.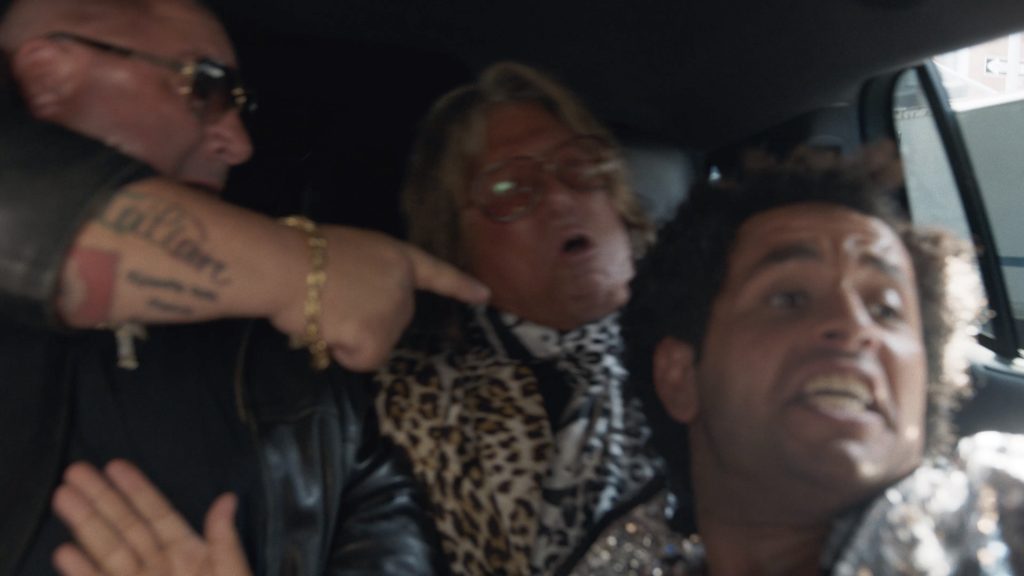 In a way, Nico has been getting to know these characters all his life. He was born and raised in Manhattan by two creative parents—both of Nico's parents are legends of the graphic design world.
So is New York Nico what you get when two of the world's sharpest visual observers and communicators have a baby? Meet the parents: Louise Fili and Steven Heller.
Louise Fili: The Icon
Has the awning of a restaurant or the packaging of a snack food ever made you swoon or salivate? If so, Louise Fili might've been behind it. Fili's influence in New York is everywhere—just look on the shelves of any bodega. She designed the packaging for Tate's cookies, Sarabeth's pantry items, and Late July crackers, among many others. Fili also specializes in restaurant branding, bringing an early-20th century flair to joints like The Mermaid Inn, Pearl Oyster Bar, Claudette, and Il Mulino.
Born and raised in New Jersey ("which I never forgave my parents for," she quips), Fili got her first industry break fresh out of college in 1973, when she happened to walk into the Manhattan studio of legendary graphic designer Herb Lubalin at the perfect time. "I literally walked into the studio on a day when someone had just given notice and was hired on the spot," she said.
Working with Lubalin, who created the typeface Avant Garde and sketched the title credits for Sound of Music, Fili further refined her ability to sketch type freehand—a skill that has since been replaced by computers and digital design tools. "Herb was notoriously taciturn," Fili says, "but watching him sketch type spoke volumes."
The decorated designer has received recognition from the Art Directors Club Hall of Fame, James Beard, the AIGA, and the Society of Illustrators, and the Type Directors Club. But it was praise from a fan that made perhaps the biggest impact on Fili's life.
Steven Heller: The Expert
In the early 1980s, the art director for the New York Times Book Review sent Fili, then working as the art director at Pantheon Books, a fan letter. (An excerpt from the short note: "I just wanted to tell you that I think your book and book jacket designs for Pantheon are excellent." The letter—from Steven Heller, of course—was reproduced in Fili's book, Elegantissima.) Shortly after Fili received it, she met Heller for the first time. "And a year later, we were married," she recalls.
Though not as prolific a creator as Fili, the elder Heller is equally influential in the art world. He grew up in the city, and at the age of 17, he became the art director of the New York Free Press (despite never receiving formal art education). In addition to the Book Review, Heller has also been the co-chair of the MFA Design Department at School of Visual Arts and the author of over 140 books on graphic design, illustration, and art. In recognition of those contributions, Heller received an AIGA Medal for lifetime achievement in 1999. (Fili earned the same honor in 2014.)
Like his social whiz son, Steven has amassed a loyal following on Twitter, where he shares his daily musings on what's happening in the world of design. He posts under the appropriately-named account The Daily Heller, in partnership with Print Magazine.
The list of books that Heller has authored or edited is perhaps his most impressive feat—it's difficult to walk into the design section of any bookstore and not spot at least one book spine without the last name emblazoned across it. Some of his most popular titles include Anatomy of Design: Uncovering the Influences and Inspiration in Modern Graphic Design; The Design Entrepreneur: Turning Graphic Design Into Goods That Sell; Design School Confidential; and Typography Sketchbooks.
And so with nature and nurture both working in harmony, two creative parents in a creative city raised a creative son. While we've already seen extensive bodies of legendary work from Fili and Heller, we're just getting a taste of what New York Nico can do.