Reading Time:
6
minutes
Ever since Steve Jobs walked onto a stage to present the very first iPhone, on January 9, 2007, Apple fans everywhere have awaited each subsequent year with outsized anticipation.
"This is a day that I have been looking forward to for two and a half years," exclaimed Jobs. "Today, Apple is going to reinvent the phone."
Nearly a decade and a half later, Apple is still trying to reinvent the meaning of the iPhone for a wide net of user types. And this week, for the first time, it introduced a 'pro' model in the form of the iPhone 11 Pro.
Following suit with other 'pro' devices—the iPad, Macbook, and Mac Pro—this iPhone joins the ranks of Apple devices that are uncompromising in build and geared toward the needs of working professionals—or at least, those that want the level of power needed to perform the resource-intensive tasks of professionals.
But how 'Pro' can a smartphone be? Is it all marketing mumbo-jumbo or can it really help get a creative's work done? Is the new iPhone 11 Pro (both in standard and larger screen size) a tool that design and photography professionals should consider adding to their arsenal?
Here, we'll take a look at 5 essential 'Pro' features and see how they compare to existing 'Pro' tools.
The Triple-Camera System
The single biggest feature that sets the Pro apart from other iPhones or even iPhone competitors is the introduction of the first triple-camera system. Included in the system are an ultra-wide camera lens offering 4x more scene (13 mm focal length with F/2.4 aperture), a wide lens offering 100% focus pixels (26 mm focal length with F/1.8 aperture), and a telephoto lens offering 2x optical zoom (52 mm focal length with F/2.0 aperture).
While each of these lenses can be used independently, it's what Apple does in combining them on the computational photography level that elevates the system to a Pro level: in a single scene, a user can zoom in to a subject from a telephoto all the way out to the ultra-wide camera for a total of 2x optical zoom range with just a couple taps of the finger.
Combined with an elegant new interface, the resulting photography system is like having three DSLR lenses and an image processing system in your pocket; capable of zipping through edits and processing RAW images across multiple photo sets within seconds.
Could you take better photos with a DSLR camera? Yes. But can you fit that bag of lenses and all those batteries in your back pocket? And on a device that has Slack, Instagram, and Venmo? No.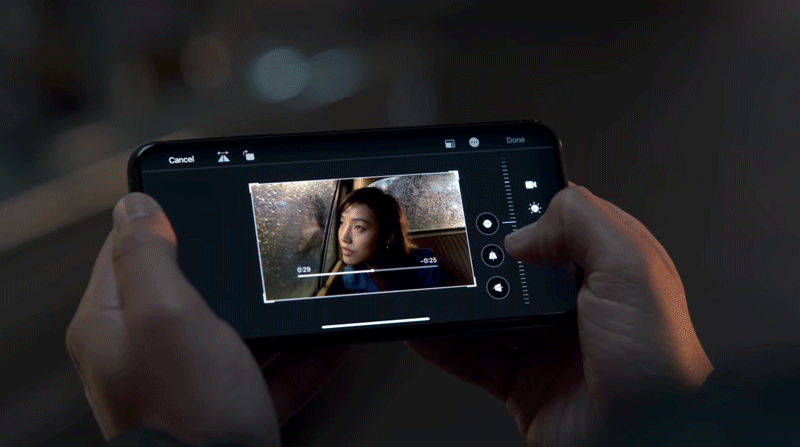 Cinematic 4K Video at 60FPS and Mobile Editing
That three-camera system doesn't just stop there. In addition to still images, Apple has optimized the system for video, too. And for the first time, the hardware works with the software on a system level for users to edit the videos just like images—including the ability to rotate, crop, auto-enhance, add filters, and more.
Add to these significant upgrades in processing power thanks to the A13 Bionic chip; filmmakers can now get surprisingly crisp 4K video and powerful editing on-the-go straight from their pocket. Further, Apple has taken significant effort to prevent shifts in exposure and color tone when switching between lenses, while also allowing app developers to record multiple lenses simultaneously for more creative control (for example, recording a two-way conversation in one take by utilizing the front-facing camera and one of the three back cameras). Paired with a new audio zoom feature that lets the filmmaker hone in on whatever sound is coming from whatever the camera is pointed at, you see how much consideration has been put into the video technologies alone.
Will the iPhone 11 Pro replace modern filmmaking cameras such as the RED? Surely not, but it's not supposed to. For designers making quick case studies or those making short films on a budget, there's no denying that the iPhone 11 Pro has the tools you need to at least put something decent together on a whim.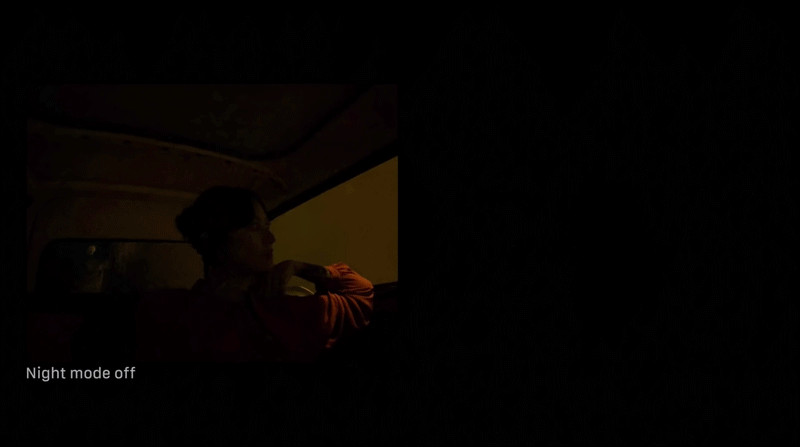 Low-Light Photography Capabilities
Long the bane of every new smartphone release where photographic capability is concerned, low-light photography is challenging for most cameras—let alone a smartphone camera. While high-end DSLRs and compact mirrorless cameras have reached new levels of low-light optical power in recent years, most of these cost thousands of dollars before even factoring in the lenses, which themselves can cost nearly just as much as the camera itself.
Instead of relying purely on optical power, Apple has leaned more on computational photography algorithms to capture dimly-lit scenes, such as candlelight dinners or the outdoors at dusk. The result? Again, a powerful tool in your pocket that would otherwise require a significantly more expensive camera and lens investment.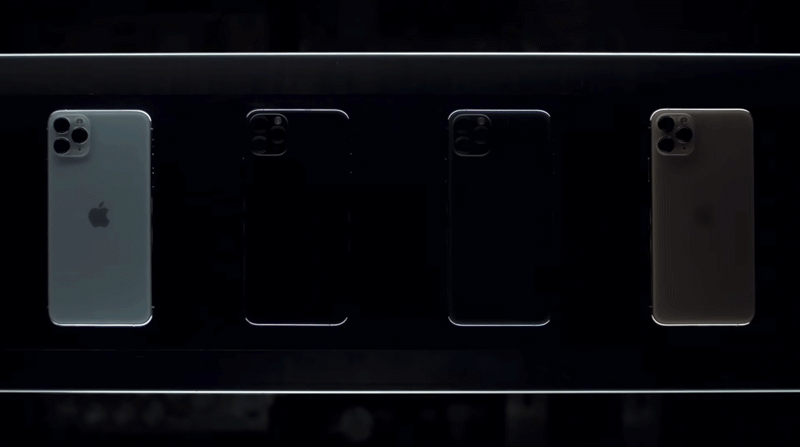 Industrial Design and Engineering
Any device—Apple or not—with a 'Pro' label should expect to have world-class build quality, and the iPhone 11 Pro is no exception.
Precision milled from surgical-grade stainless steel and a layer of custom, textured matte glass, the body of the iPhone Pro is—like many of the iPhone predecessors—among the best in smartphone industrial design thanks to the talented Apple Design and Engineering Teams.
The camera enclosure, with its awkward bump from the main body, is likely to be the biggest put-off for some, but all of that pocket-sized image gathering power takes a little bit of hardware design sacrifice, and the bump is a fairly small tradeoff for not having to lug around a DSLR and a bag of lenses. At least they surrounded it with a single sheet of sculpted glass that also lends strength and structure to the body.
On the front, a Super Retina XDR display lives up to its 'Pro' name. Not only is it the brightest and sharpest display on an iPhone, ever (itself a feat), it also meets or exceeds display standards on many pro desktop displays including a high nit count—a measure of luminance—of up to 1200 for viewing HDR media, a 2,000,000:1 contrast ratio, 458 pixels per inch resolution, and systemwide color management for color accuracy.
Add to this the A13 Bionic chip, which both doubles down on power capabilities (including machine learning) and speed while reducing overall power consumption for improving battery life, and it's clear that the phone is more than a pretty package; it packs a pro-level punch inside, too.
For the clumsy, the phone also features updated tougher glass for a better chance of surviving falls without shattering, as well as in increase of water resistance for those unexpected spills or ill-timed drops in white water rapids or barroom toilets.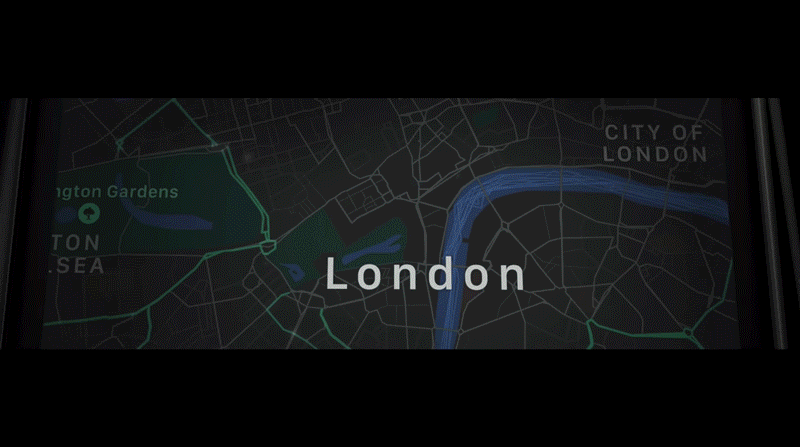 Dark Mode and the iOS 13 Interface
In combination with iOS 13 (to be released September 19, the day before the iPhone 11 Pro release), Apple's latest iPhone software update, the iPhone 11 Pro is sure to be a breeze to use as the company has hunkered down on improving the operating system for increased usability and privacy—both critical factors for many Pro-level users.
On the usability side, the all-new Dark Mode introduces dark backgrounds for all native apps. This will come familiar to photographers who use Photoshop or Lightroom as the dark background takes the strain off the eyes and makes it easier to edit media with color accuracy. And it just looks cool.
On the privacy side, jumping in and out of web services for storing all of your personal or client data can now be done with a single Apple ID and face scan; as opposed to managing a portfolio of different usernames and passwords. More specifically, Apple has taken the liberty to create secure, unique emails and passwords that are all tied to their single sign-on interface.
Additional features coming to iOS 13 include an improvement to Maps, content sharing features via AirDrop, improvements to the Messages and Mail apps, and more accessible media storage, among others.
Verdict:
So is the iPhone 11 Pro really that 'Pro' and worthy of being considered a tool for the professional photographer or designer's toolkit?
Absolutely.
From the intelligent three-camera and computational photography system to its exceptional industrial design and Dark Mode features coming in iOS, this is nothing short of the most powerful computer a Pro can carry in their pocket today.
If Jobs was still around to present the iPhone today, he would include yet another device like he listed off in 2007: "a professional camera."