"Users clicking on photos of real-life people are twice as likely to convert to a sale." – Olapic co-founder Jose de Cabo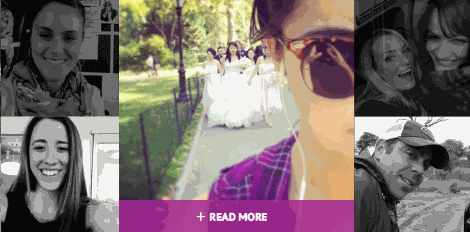 Would you rather click a pic or a photograph? An ametuer selfie of a real person or photos from a staged studio shoot of generic models?
There is a story behind the photo you see above. The woman wearing the purple coat and taking a selfie is named Katy. I know her. In fact, Katy is sitting at the other side of the desk from me as I write this now.
Why am I telling you this? First of all, because Katy is authentic. She's a real person.
Secondly, because Katy's photo was used at the center of an e-book published by NewsCred (and created with Ceros!) called "The Power of Visual Storytelling". In the e-book, the argument is made that authentic imagery is the key to an audience picturing their personal lifestyles within a brand.
It's an interesting piece that's well worth the read. Before the NewsCred team published the piece, they asked everyone involved for their most candid photos. The Ceros team sent in their pics and Katy's was selected.
Here are two reasons why you should use real life imagery over stock photos:
1) People identify with "real world" photos. They can picture themselves inside that office if it looks like a real setting and the people in it are not actors pretending to sit at a desk.
2) Stock photos cost money. Snapping a selfie is free.
Conclusion
The era of staged stock photo has passed. If you want people to relate to your messaging, show them something real. Read the e-book by NewsCred.
Oh, and here's Katy: