Robot shoes? Um, yes please!
The best thing about New York Fashion Week has always been innovation – mostly in style or design, but every once in awhile NYFW steps out of their fashion wheel-house. Nowhere was that more palpable than at Katalyst Live's FASTAW15, a summit hosted by Carmelo Anthony, Intel, and Accenture, featuring the coolest emerging tech at the intersection of fashion and sports. There was one piece of tech that caught everyone's eye…and feet: SOLS' robotic shoe, aptly named ADAPTIV.
SOLs just raised some serious funding – a juicy $11.1m series B round by return backers Founders Fund and Lux Capital and new comers Tenaya Capital and Melo7 Tech Partners. This is amazing news for athletes, fashionistas, and tech folks all over.
Ever since the light-up sneaker came back into vogue, podophiles have been clamoring for a high tech shoe with some fashion sense. The explosion of wearables made that dream a reality. SOLS, an already-forward-thinking startup custom 3D printing orthotic insoles, read the writing on the wall, especially because that writing flickers in multi-color neon lights. SOLS seeks to "take a stagnant market and make it accessible."
Let's back up though. Ten years ago Dr. Scholls ruled the orthotic world with an iron foot. We all remember those monstrous "Custom Fit" machines in our pharmacies (there are still some around). And of course it piqued our interest, because at that time small was not yet the new big and facebook was still just for college kids, it was still the old days of tech. We know better now. We want something truly custom, truly ground breaking.
Enter SOLS. Throwing off the podiatric yolk of their older competitors, SOLS truly embraced the tech boom. Instead of shoehorning tech into their product, like the reactionaries were doing, SOLS conceived of an insole and eventually a whole shoe born in the modern tech world.

SOLS custom 3D prints orthotics. Each sole is custom tailored to your foot with thousands of data points, matching the natural movements of your body. They're also customize for your lifestyle. So, if you're a dancer you'll get something different from a runner. They also use 3D printing, which isn't just a fancy way to sound more tech savvy, it's actually a practical way to get you a completely customized product in under 6 days. It's not magic, it's the future, and SOLS is helping you live it.
We caught up with Joy Altimare, SOLS' VP of Marketing, to pick her brain about where they came from, where they are, and where they are going. She very passionately discussed the need for an "emotional function of tech" – to not just have a watch that tells you how many calories you burn, but to create something as ubiquitous and intrinsic as our smartphones have become.
Altimare says there is an "emotional function of tech." This is where fashion comes in.
Fashion has traditionally been an artistic endeavor not a functional one, hence: "beauty is pain." SOLS wants to disprove that old adage. They've come up with a stylish robotic shoe, ADAPTIV, to revolutionize the way people think about fashion and tech.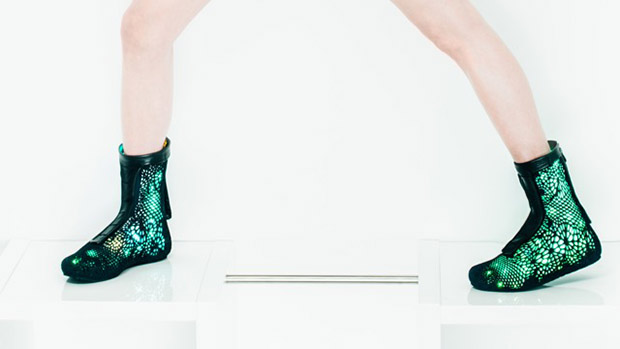 That's right, I said robotic shoe.
What makes it robotic, you say? I'll tell you.
ADAPTIV has a system of gyroscopes and pressure sensors that move air pressure or fluids throughout the shoe as you walk, run, jog, saunter…you get the point. SOLS views this as not only the future of footwear but of apparel in general. Altimare championed this idea, saying "all consumers will want some level of tech in what they wear." The days of fashion for fashion's sake is over, the revolution is here, just look down.