INTRODUCTION
Chloe + Isabel is an innovative social commerce jewelry company that empowers and connects women through their own social selling experience. Described by TechCrunch as a tech savvy fashion company that is "currently re-defining direct selling," Chloe & Isabel is disruptive and inspiring. Just the sort of people we love here at Ceros.
As both a rapidly expanding trendsetter and Ceros evangelists, we were curious to hear how the design team at Chloe & Isabel keep up with all the velocity while still staying uniquely creative. The conversation resulted in this Q+A and a case study. Our hope is that it will serve as inspiration for others who believe that flourishing creativity contributes to major sales growth.
THE CASE STUDY
No time to read the entire Q+A? Check out the concise case study.

Intrigued? Read on to learn how the creative team is accomplishing success stories like Tresco Isle…
FULL Q&A WITH THE CHLOE & ISABEL CREATIVE TEAM
1) Chloe + Isabel is a digital first company and Tresco Isle was exclusively online. What was the story behind the collection and to it being online only?
Our Tresco Isle Collection was inspired by the eponymous British island off the coast of Cornwall, home to over 300 species of imported tropical plants. This point-of-inspiration came as a natural next step following our core Spring 2014 launch, Undreamed Shores, which had an airier, more ethereal feeling. Moving away from the popular pastels that season, and exploring the brighter palette of the warmer-weather months, we launched the Limited Edition Tresco Isle collection on April 1st. With a small grouping of products (12 in total), this collection presented the perfect opportunity to truly explore the Ceros platform – testing our content's virability, and the online-only selling power of these styles. Plus, with such a fashion-focused collection, we could play up what we love most at Chloe + Isabel – the art of storytelling.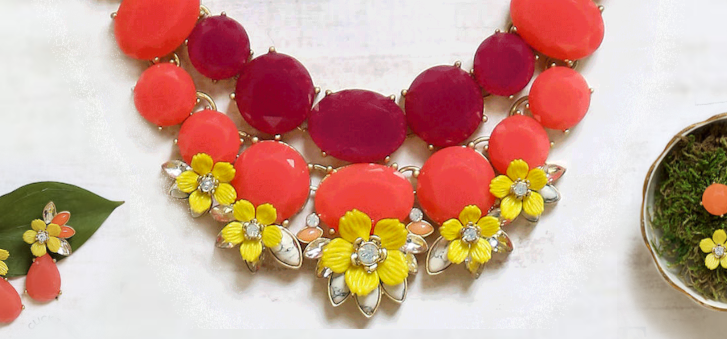 2) What was it specifically about the Ceros platform that caused you to select it over other design software or printed catalogs?
In the past, we've used digital publishing platforms to digitize our printed look books, but have found eCommerce integration is often an afterthought in those environments.
Since this was a limited-edition, of-the-moment collection, we wanted to test whether we could have a successful launch to our Merchandisers and customers without the cost and time that we typically invest in printed material. In doing so, we also wanted to ensure that we could build an online experience that would be just as engaging as a printed book. When we investigated online platform options, the Ceros Studio stood out as an immediate front-runner – it allows us to create rich and engaging content, building a fully-interactive user experience with a level of eCommerce integration we were unable to find elsewhere. Having all of our technology operations and back end administration run in-house allowed this integration process to not only be possible, but seamless.
Once we signed up for the free trial, our designers played around inside the Studio. A direct quote from our Associate Art Director, "I was astounded at how intuitive it is to use and how quickly I could create experiences by myself, with very little development experience. As a designer, I was thrilled at how easy it is to create rich HTML5 experiences, considering how long it would take to develop them from scratch."
3) The collection was created on a long scroll page in Ceros. Why did you choose this format and what was the intention behind some of the design decisions you made? How did you create the beautiful, seamless image for the experience?
We wanted to take the viewer on a journey to a single destination, Tresco Isle. We chose the vertical, long-scroll format as it allowed us to feature content (like the jewelry inspiration video) in tandem with the full 12-piece collection without any visual or conceptual break. Showing the pieces together with storytelling props gave a sense of scale and dimension – a critical objective for an online-only launch.
Believe it or not (no, we didn't take a trip across the pond for this one!), all of the creative concepting and execution was done out of our office here in TriBeCa! First, we sketched out the design and copy placement, then set up the jewelry on a textured background. We added props that lent an English aesthetic, as well as fresh fruit and flowers to reinforce the concept and provide scale for the jewelry. We took some overhead test shots, and pulled them into the Ceros Studio. After a few revisions – running back and forth between layout and computer with test shots from our phones – everything was centered and perfectly placed.
4) How did you draw awareness to Tresco Isle within your community?
We encouraged our Merchandisers to introduce the collection to their network by sharing the link to the Ceros experience, and adding their personal take on the new styles. We also supported their marketing efforts by embedding the link into each of their Online Boutiques, providing multiple social sharing assets to drive their network to the experience, as well as promoting the look book across our homepage and social media channels.
Owing to the excitement of our Merchandiser community, and their personal social media marketing efforts, our Tresco Isle interactive look book went on to have almost 18,000 views in the month that it launched, with visitors spending an average of 3 minutes and 20 seconds in the experience.

5) Which metrics popped out in your reporting that surprised you the most? Did you learn anything new about your buyers that will affect future messaging?
Most notably, we saw that shoppers who began adding to cart from within the Tresco Isle interactive look book were twice as likely to close their orders as shoppers who began adding to cart straight from our site. This showed that our customers were comfortable purchasing from within the Ceros experience, and that it was a viable way to focus consumer attention on edited product groupings.
We also learned that around 40% of the visitors to our interactive look book were accessing it via a mobile phone or tablet. To maintain the integrity of the user experience, we will plan to design "mobile first" while paying mind to a dual experience for our desktop users.
6) How has this experience and insights gained helped empower your merchandisers' boutique businesses?
Once we unveiled the Tresco Isle interactive look book during the collection's launch call, Merchandisers were empowered to share it far-and-wide to their customers via social media. Our mission is to provide each of our Merchandisers with the powerful marketing tools she needs to successfully build and grow her business. Using the digital look book format, we provided her with an exciting new way to share beautiful content without the cost of printed material.
Ultimately, we credit our Merchandiser for making the experience go viral: the Tresco Isle collection sold twice as fast as we anticipated, with a high level of traffic driven by her boutique.
7) Any additional anecdotes to share with us?
We saw a lot of love and built-up hype for Tresco Isle across our social media communities. The experience received positive buzz via all of our channels and most notably on Facebook. Our Tresco Isle interactive look book Facebook launch post performed second highest in engagement during the month of April, with almost 1,000 engagement impressions, including clicks, likes, comments and shares.
Most importantly to us, our Merchandisers loved the experience! Here are some of their immediate responses:
"How amazing is the interactive lookbook? SO COOL!!" – Amanda
"I love how you can shop straight from it!" – IIe
"I love this digital lookbook! The pieces are more vivid which bring them to life!! Love the way that you can click on the piece and it takes you to the boutique page that has more info!" – Wendy
"The jewelry looks UNBELIEVABLE! It looks so sharp, the colors of the props and pieces go together perfectly, and the whole scroll flows so well." – Christine