Valentine's Day is just one big content marketing scheme from Hallmark. But let's be honest, that's kind of the point. Valentines Day is all about clever marketing and delightful content. You know it, we know it. So let's not mince our words. Instead, let's check out some awesome Valentine's Day content!
We've gathered three very different Valentine's Day campaigns to show you a wide breadth of strategies and creativity.
Audi
Though not specifically about Valentine's Day, the spoof on 50 Shades of Grey speaks to women, the biggest population of fans of the book-become-movie as well as the stereotypical pushers of the corporate-scheme-turned-holiday. One might call this a bit of shoehorn corporate shilling, but Audi is actually in the book (I didn't know that either) as the gift for Mr. Grey's paramours. This ends up bringing the whole ad full circle: the pitifully desperate and yet somehow endearing woman isn't trying to relive her literary fantasy, rather, she just wants a new Audi.
So what does this have to do with Valentine's Day? Well, with 50 Shades of Grey opening in theaters the day before V-day there seems to be a natural connection between the two. And let's face it, the two beget the same action: female partners forcing their male counterparts to do 'relationship stuff.' Audi used this all-too-convenient timing to riff on these two pop-culture phenomena.
Satirizing a hit pop-culture phenomenon has always been an effective way of reaching your audience. Audi did just that. Even when you're running a campaign around 50 Shades of Grey and Valentine's Day, a funny, satirical spin can get you traction with the population who hates those two things. Be light, be funny. In the land of ads the easy-going man is king.
Starbucks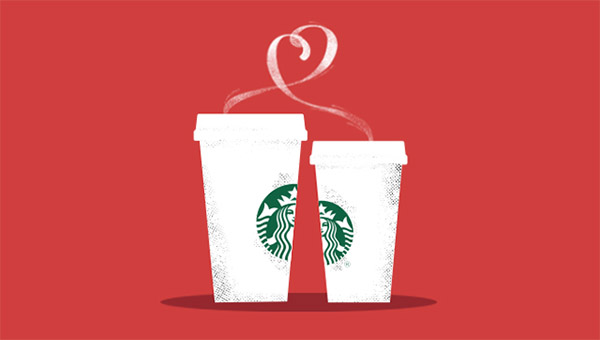 In a genius move, Starbucks and Match.com are teaming up to help people make that first coffee date. It's a great initiative around V-Day – helping lovesick singles find a quick date, and if they happen to buy a venti iced mocha frappuccino then hey, that's what Valentine's Day is all about.
Match, with their data on over 3-million users, started noticing just how often their users were saying the word coffee (they don't go on dates, they get coffee). Match leveraged this data beautifully. Starbucks isn't pulling any punches either. Starting February 13 they are revamping their stores, giving them a Valentine's day makeover to create the world's biggest coffee date. Queue the cupidon legolas.
This is also not Starbucks' first app-rodeo. They were the first to partner with Uber to enable Starbucks customers to order cars directly from the Starbucks app. Needless to say Starbucks is very tech savvy and this partnership is a natural extension of that. By combining their pre-eminence in the first-date world and their forward thinking digital tactics, Starbucks is doubling down on the mobile app world. And given the copious espousals of 'the rise of mobile in 2015' this is yet another agile move from Starbucks.
Michael Kors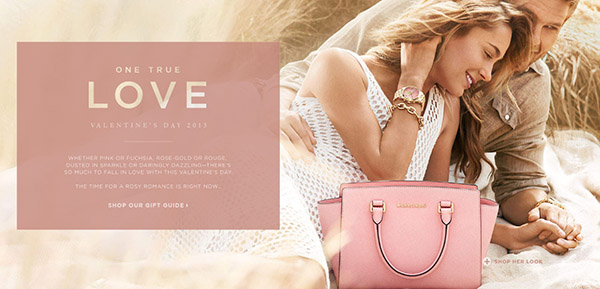 For Valentine's Day, Michael Kors has created a top to bottom digital experience. It's a traditional gift-guide with a very savvy spin. Instead of the usual magazine feel of product after product, MK crafted an engaging piece that tells a story, helping both stylish women and hapless men navigate the churning waters of V-Day gift buying.
It starts in the usual way: a windswept beauty and her half-faceless adonis caught picturesque, enjoying each others' company on, what one can only assume is, an unfathomably romantic and impromptu beach picnic. But then you keep going. The animations and the pictures a delight to behold. Michael Kors doesn't market their products, they narrate their products. That's the key difference between this kind of rich, interactive digital content, and essentially everything else you see that's trying to sell you something.
Michael Kors also makes sure to make the shopping aspect of their gift guide a seamless experience. Instead of clicking 'buy,' navigating to a shopping cart, then navigating back to the page to keep shopping. MK has married their content and commerce, and it's the perfect Valentine's Day couple!