Our product team has been killing it so far this summer. First, they released our shiny new Font Explorer last month; now, they're bringing Smart Groups and Pinned Groups to Ceros users everywhere!
New Feature: Smart Groups & Pinned Groups
This is just the beginning of our journey with Smart Groups and Pinned Groups. We'll be rolling out regular enhancements over the coming months, but here's what you can get excited about using right now:
Smart Groups
With Smart Groups, you can group objects together into a single group that behaves as a single entity. Why use Smart Groups?
They're super easy to copy it across page.
You can make global updates to all instances of a Smart Group with a single edit.
Your Smart Group edits happen separate from other edits in the Studio, so you can have a separate undo/redo command chain.
Smart Groups come in handy for navigation elements, global calls-to-action, complex objects, and other items you want to appear in multiple places in your Experiences.
Pinned Groups
The perfect companion to Smart Groups is Pinned Groups. This feature allows you to pin any Smart Group in place on the canvas so that it remains in that spot as a user scrolls down the page.
With Pinned Groups, you can now create things like sticky navs, side tabs, omnipresent buttons, and other visual elements that you want viewers to be able to access any time.
New Feature: Alt Image Text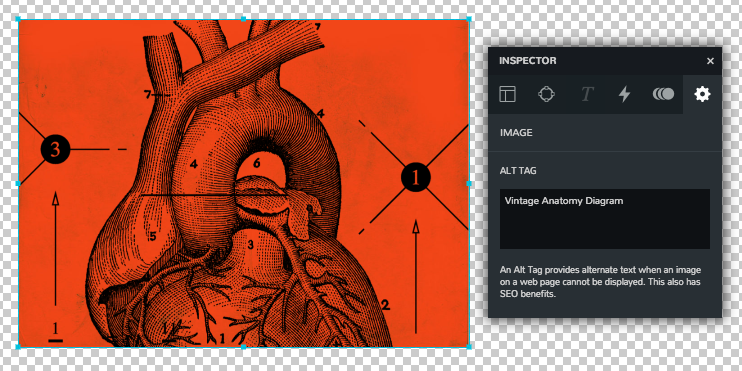 If you're creating standalone Experiences, alt text can help your content be more easily readable to search engines and to screen readers. You can now easily add alt text to any image in your Experience through the Inspector panel.
Additional Enhancements
Our product team dedicated a full 2 days to platform enhancements for this release, making a total of 35 improvements. Some of the notable fruits of their labor include:
Improved desktop touchscreen experience: Previously, laptops or desktops with touchscreens would only allow viewers to interact with Experiences using touch. Now you can use touch or your mouse to navigate through content created in Ceros.
Faster image processing: Uploading and processing large media files in the Studio now happens more quickly.
Color picker on retina displays: The color picker feature now works on retina displays.
Scrolling animations in long embedded pieces: On-scroll animations now work in long embedded Experiences that use native scrolling.
Left-right arrow page flippers: If you choose to turn off the left-right arrows in your Experience, viewers will no longer be able to flip between pages using the left or right arrows on their keyboard
SHARE YOUR FEEDBACK
Have a great idea for a new feature? We'd love to hear your thoughts. Submit your feedback to our Ideas Forum.