Released March 9, 2015, Ceros rocks with a whole new Studio. We've also improved performance to run leaner and more efficient than ever and added a stealth mode for internal-facing content.
Studio Redesign
The Ceros Studio has gone black.  We've put in a sleek new studio design that makes it easier to build in Ceros.
The new design focuses attention on your content so you can work with less distractions.  And it looks really sharp so you'll feel cool doing it.

Performance Enhancements
We've been doing all kinds of upgrades to the back end to make sure Ceros humming along and performing to spec.  In this latest release we re-examined how the thumbnails are stored in the studio and optimized to speed up the servers and make our database even faster.  You're gonna love it.
SEO Stealth Mode
As more of our clients begin to leverage Ceros for internal communications, we've received feedback that it needs to be hidden from search engines.  We now provide the option to exclude Ceros from search engines so they won't show up unless you want them to.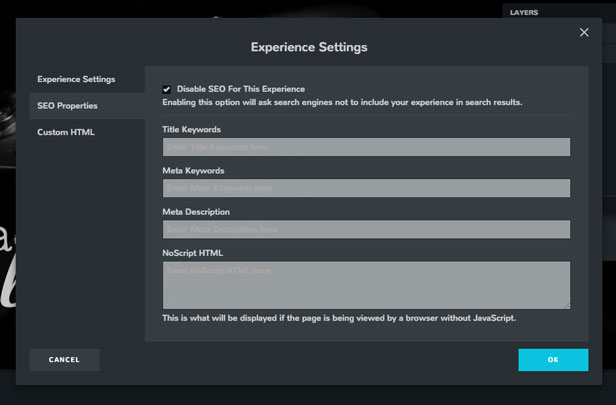 Improved Drag Rotation
After introducing our drag rotation feature in the last release, we got some great feedback from the design community.  We've now tightened up the rotation – it will only be active on the corners of the components, and will activate much closer to the object to prevent accidental rotations from occurring.  We hope you like it.
Farewell IE8
Finally, it's time to take Microsoft's cue and bid farewell to support for Internet Explorer 8. This enables us to focus on delivering all the amazing features our clients have been asking for. Moving forward, IE8 users will be presented with a gentle reminder to upgrade their browser in order to enjoy Ceros Experiences.
---
More Improvements in this release
Nunito Font Added: It's new. It's neato. It's Nunito! 

Jitter Bug: Compensating for IE8 meant some animations were a bit jerky in Chrome and Safari. Removing IE8 support allowed us to get rid of the jitter for a smooth entrance.