Released February 10, 2015, Ceros 5.25 provides quick access to embed codes, friendly messaging, better image handling and a spiffy new look to your experience tab.
Embed Widgets
We've made it easier than ever to add Ceros content to your website. Embed buttons are now available with every published experience in your Project Admin and the Ceros Studio.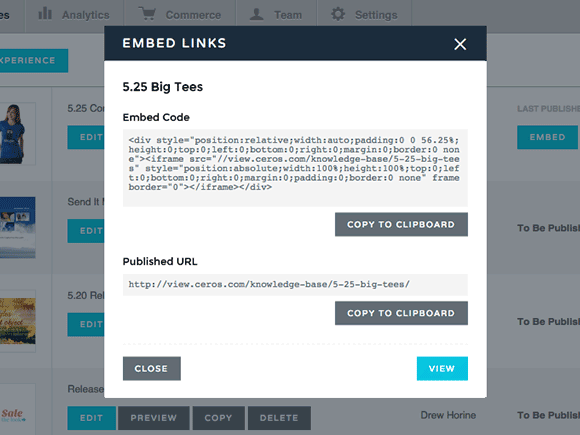 Clicking the button reveals the code you need to add the experience to your website. You can paste it right into your content management system or hand it off to your developer.
Oh, did I mention this code is completely responsive? It will shrink or grow to fit whatever space you put it in.
Your developers will also love that it's open source. You can use the code as-is or change it any way you want to meet your needs.
Experience Tab Redesign
Speaking of buttons, you may notice ours have a new look.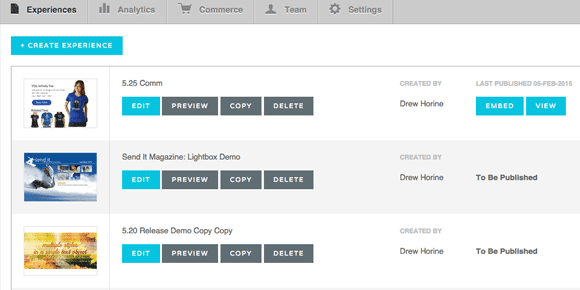 Over the next few releases, we'll continue making things easier on the eyes to enhance your enjoyment while working in the Ceros Studio.
Friendly Studio Messages
Everybody hates getting error messages. But, wouldn't it be nice if they at least talked to you like a human being? We thought so, too.
Messages in the Ceros Studio are now decidedly more friendly. Plus, they give useful information about what just happened and provide a way for you to get help.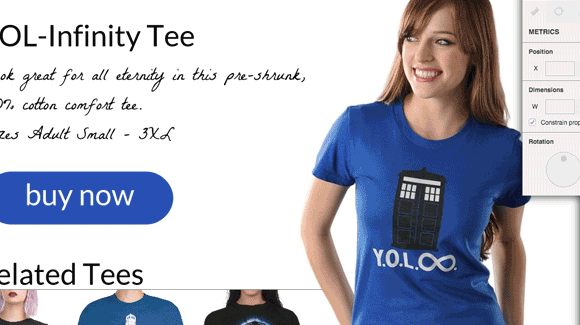 If you keep getting an alert, just click the link in the message box to get in touch with one of our helpful support superheroes.
Admin Tab URLs
Each tab in your Project Admin now has its own URL.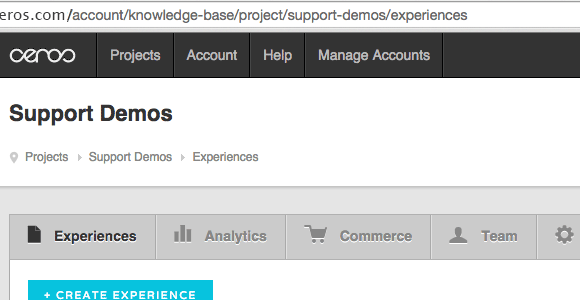 This lets you link directly to Experiences, Analytics, Commerce, Team and Settings for collaborating with your team.
Using the back button and refreshing your browser window also work without jumping you back to the Experiences tab every time.
Smart Image Scaling
Sometimes beauty comes in the form of faster load times and more efficient processes.
We've revamped the way images are scaled and processed, giving you the smallest file size while delivering the best quality image to your visitors.
You're also no longer bound by the 2048 pixel restriction. That means you can add a background image for long-scrolling pages that matches the height of the page.
Of course, we still have the whole "with great power" rule. Be sure to optimize and correctly size your original images before upload for the best experience.
Embedded Preview Notice
Ceros Real-time Preview lets you check things out before you're ready to make it public. But, it's really important to make sure your content is published before sharing it with the world.
To ensure the best performance for your visitors, we've added a reminder message to previews embedded on your website.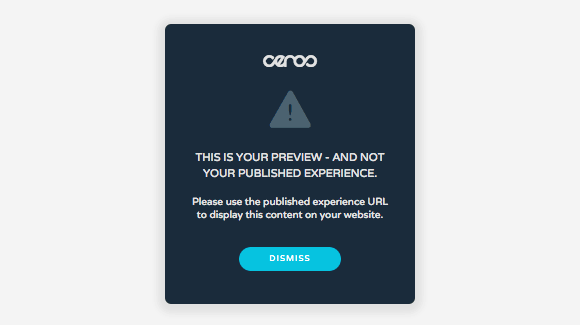 If you're still testing things out, just click to dismiss it. Otherwise, be sure to use the Published URL located in the new Embed Widget.
More Improvements in Release 5.25
Percent Published: Publishing progress indicator now shows percentage instead of the number of pages finished.

Studio Timeout Increased to 30 seconds from 10, reducing timeout errors when working on large experiences.