Released November 7th, 2013. This release brings collaborative editing in the Studio, rulers & guides, the ability to limit access to projects, and other creativity and workflow improvements.
Work Together in the Studio
Real-time design just became collaborative! Invite your fellow designers into the Ceros Studio, and you'll know exactly what page they're editing, and what objects they're selecting!
Learn and Experiment with Demos
To spark your creative juices, we've created a ton of inspirational demos and use case examples that you can play around with and even reverse engineer for your own designs. Import the Inspiration project into your account now!

Rulers and Guides
Laying out your content in Ceros just got a whole lot easier! Drag guides out from the horizontal and vertical rulers. Move objects or even groups of objects and they'll snap right to the guides. Drag out the 0x0 origin point to make relative positioning a breeze. New guides are instantly visible to other collaborators in the Studio.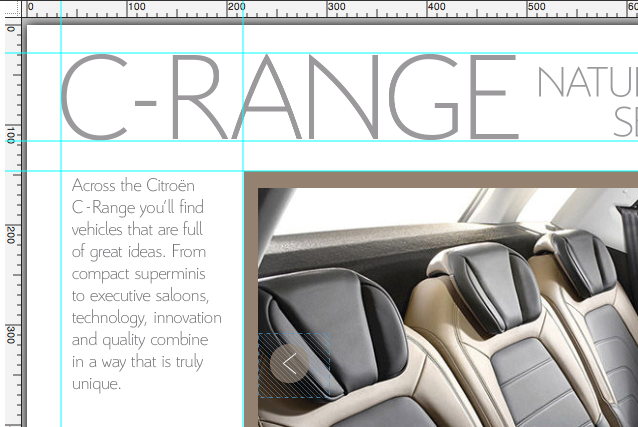 Remove Arrows and Menu
Hide the top menu bar and enjoy full-window experiences like never before. Hide the arrows and you're free to build your own custom navigation — allowing your visitors to experience your content how you desire.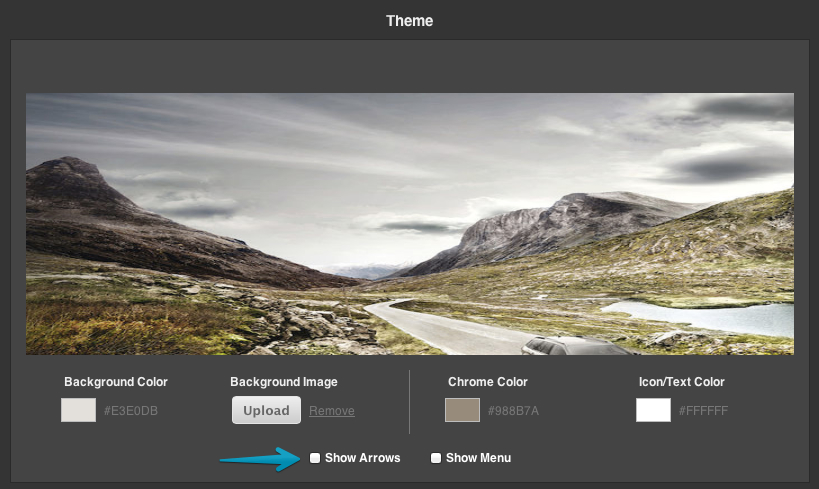 Improved "Replace Image"
Thanks to excellent customer feedback, when using the "Replace Image" feature to replace an existing image in the Studio, the name and dimensions of the new image are carried over. The animations, actions, and other settings of the original image remain.
Increased Compression and Optimization of Images
In another step toward improving load times, we've increased the compression and optimization applied to newly uploaded images resulting in up to an 80% reduction of file size without sacrificing visual quality.
With this latest improvement, you no longer need to web-optimize your images prior to uploading. You can upload unoptimized, uncompressed images and be confident that your experience will load quickly and look great too. Of course, for maximum performance it's still important to make sure you're using the correct file type for the job.
Limit Access to Projects
Need to isolate a teammate to a single project? Now you can!
From the new "Team" tab in each project, you can invite any agency or team member to just that project and prevent them from seeing or accessing other projects in your account.
Teammates with project level access can freely create, edit, and publish new experiences in the projects to which they have access. They also have access to view that project's analytics and edit commerce integration settings.
An upcoming release will allow you to further restrict each user's privileges within a project.
At this time, all of your existing teammates are considered "Owners" and have full access to all new and existing projects. If you wish to demote these users to project-level access only, please contact support@ceros.com and we can handle that for you right away.
Paving the way to better Analytics
As the first step in an ongoing effort to bring you better stats to measure the success of your Ceros experiences, we've carried out a major house cleaning of analytics.
New Graphs for Experience Stats
Through customer feedback, you've indicated that Project level statistics are less useful than we originally thought. So we've moved the Opens Over Time, By Device, and By Country graphs and charts to Experience Stats instead.
Max 30 Minute Dwell Times
We've also optimized the calculation of page dwell time to compensate for visitors who may have accidentally left their browser window open and are no longer actively engaged. The maximum reported dwell time for an individual user is now 30 minutes.
Tracking Hotspot and Object Clicks
Behind the scenes, we've begun tracking all clicks to hotspots and objects with configured actions. Allowing us to report individual object click rates in a future release. Be advised that when click metrics are displayed in an upcoming release, your object name (as defined in the Layers panel) will be used for reporting — so it's important to start giving your objects descriptive names.
Resolved Issues
We've added "Retina Resolution" dimensions to the Studio to aid first-time users when uploading images.
When loading a product or shopping cart panel, the themed loading spinner is displayed alone above the page prior to the panel being displayed. Previously, a white panel displayed with the loading spinner above.
Swiping up/down on mobile devices now moves the window up/down like normal web pages. This aids in returning from full-screen mode to the browser bar in iOS6 and iOS7, as well as allowing you to scroll the parent page by swiping on embedded experiences.
When using the shape tool an extra click was previously required to change the type of shape being drawn on the canvas.
New shapes start with no border/keyline and a light gray color fill.
To improve usability when the experience publish process finishes, we're now displaying and auto-highlighting the published URL for ease of copy-and-paste.
Preview and View links within the Admin list screen now always open the experience in a new window.
In order to decrease friction, we've removed the need for existing members to "Accept" invitations to new accounts or projects.
Resolved an issue whereby an experience that was more than an 8th copy of the original was unable to be published.