Released Thursday, August 8th, 2013. This release contains a combination of customizable canvas sizes, improved text options and stability, amazing new animations, and loading performance tweaks.
Canvas size freedom
Customize the dimensions of your pages
You can now create Ceros experiences at any size you choose. Beyond the standard default 1024×768 aspect ratio, you can make widescreen, square, or completely custom experiences.

If you're embedding your Ceros experience on your website, you can conveniently adjust the size to fit the area you've designated for it.
Note: The custom canvas sizes feature allows you to create pages that are a minimum of 320×320 pixels and a maximum of 1024×1024 pixels. As Ceros Experiences scale to fit the available area, by using the correct aspect ratio, it is possible to create smaller or larger experiences.
Beautiful typography now available
More font choices
You can now choose from 7 standard web fonts and 27 font faces straight from the Google Web Fonts collection. Use the Ceros Studio to conveniently modify your copy without the need for third party design tools.
We're looking for your feedback on the top Google Web Fonts that you'd like to see introduced next!
Text parity across browsers
For anyone who has ever tried to get their text aligned just right across all web browsers, we don't have to tell you how much of a pain it can be! Browsers being what they are, it's impossible to achieve perfect parity, but we've made great strides in ensuring your text is almost identical across them all.


Typographical font size scale and auto line-height
Choosing the right font size is now easier with a convenient font size dropdown and automatic line-height adjustments that scale proportionately with the font size. You can still manually set the line height if you need to — just uncheck "Auto" and adjust accordingly.
More animations and interactivity than you can imagine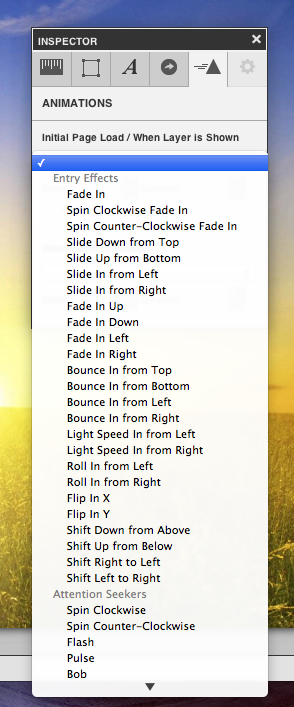 54 all-new animation effects
Slide, fade, bounce, roll, flip, shift, pulse, flash, bob… the possibilities are endless.
You have so many new animations to choose from, we had to organize the effects into groups just to make them easier to find!
Entry and Exit Effects give you more freedom to create eye-catching effects when your visitors interact with your layers.
With Attention Seekers, you can direct your visitors to your click targets or important pieces of content with subtle or not-so-subtle indicators.
For versions of IE prior to IE10:
It's important to note that due to HTML5 limitations in IE8 and IE9, these new effects will only fade or move in. Effects involving rotation, scaling, or skewing perspective are gracefully degraded on IE8 and IE9.
Combine and create multi-phase effects
Not only can you choose from 54 new effects, you can now combine multiple effects for a single object. Fade in and flash? No problem. How about roll in from the left, wait 2 seconds, do a flip, and then roll out to the right? Yup!
Repeat your effect forever
Attention seekers like "Pulse" and "Flash" are fantastic for pushing your visitors to clickable areas, but what if they missed it the first time? Just click "Repeat" and your animation effect will delay and loop forever — grabbing your visitors' eyeballs again and again.
Animate objects when you hide layers
You can now fade, spin, slide, bounce, light-speed, roll, or flip your objects off the page whenever your visitors click to hide your layers. Now the panels you create with layers can fade in and fade out.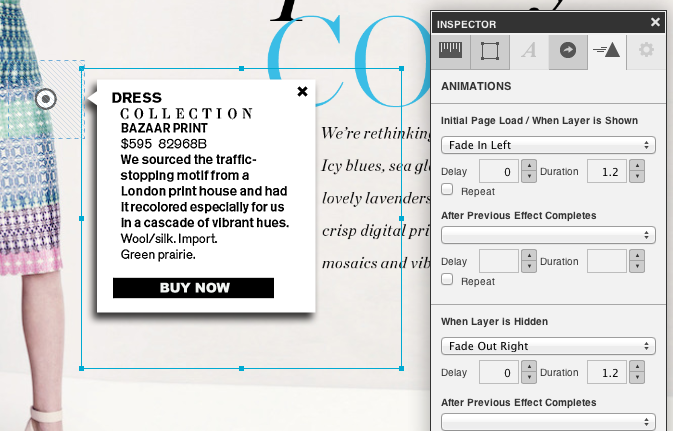 Optimized loading performance
Lazy load hidden layers
As you know, the single biggest factor that affects your loading times for Ceros experiences is the size and quantity of images on your pages. In this latest release, your initially visible images are preloaded before displaying each page, and your images contained in hidden layers are only preloaded when those layers are made visible by interacting with the page.
Build rich interactive experiences without compromising loading performance.
Smarter image loading
Your visitors browsing a Ceros experience will now only load the high resolution versions of your images if and when they are needed. Visitors on smaller screens or even using smaller browser windows will benefit with decreased loading times. Increasing the size of your browser will automatically download the new higher resolution images ensuring your beautiful Ceros experience never loses clarity at any screen size.
Projects and Experiences
We've changed some things around! Your Ceros experiences are now referred to as Experiences within Projects in the Ceros platform.
Resolved Issues
We've deprecated project-level SEO settings in favor of experience-level only.
You can now select multiple objects and change animation properties without erasing existing data for those objects.
We've removed the Name sort option in Users list.
We've resolved a bug whereby accessing experiences in deleted projects would display an Internal Server Error instead of a 404 screen
We've removed the minimum image upload size
We've increased the maximum image upload size to 100 MB
We've increased the maximum video size to 500 MB
We've increased the image upload and processing timeout to 5 minutes
We've fixed a sharing URL bug when sharing via Facebook, Twitter, Pinterest, or email
The invitation emails no longer indicate that Safari 6 is the only supported browser for the Ceros Studio.
We've removed the "No Index" SEO option.
Reliability when loading experiences in IE8 and IE9 has been increased.
We've prevented resize cursors from displaying when the selected object is below other objects on the canvas