Released Wednesday, July 10th, 2013. This release is a combination of technical updates to improve loading speeds and animation performance, and new features including drag n' drop uploads and branded URLs.
Freedom for your URLs
New shorter URL for your Ceros experience
You're going to love the new simpler Ceros URL structure. Long and difficult-to-remember URLs are a thing of the past.
The new URL structure for your issues is:
http(s)://view.ceros.com/your-brand/your-experience/

What happens to all your existing URLs? Don't worry! We're redirecting your users (and the search engines) to the new URLs automatically.
One URL to rule them all
In addition to shortening the URL, you'll no longer need to remember which URL to use for embedding and which URL to distribute via email – we've consolidated both URLs into one URL that works everywhere.
Change your URL at any time
Want to try your published issue but not sure what you want the final URL to be yet? With the latest release, you now have complete freedom to change your issue URLs whenever you like, even after you've published!
What happens to the old URL when you do that? Not to worry, we ensure that your old URLs continue to redirect your users to the brand new URL. Your analytics will also carry forward with any URL change you make.
Branded domain names
We've taken the new simpler URLs a step further! You're now able to set up a custom vanity domain for your apps.
With a vanity domain, your issue URLs are even shorter:
http://anything.yourbrand.com/your-experience

Contact support@ceros.com right away to get started using vanity domains.
Find and copy your live URL before you've published
In the last release of Ceros, we exposed your live published URL in the Settings screen before you published. Now you can select and copy your URL from the Settings screen so you're properly prepared when you click publish!
A better interactive experience
Faster load times, smoother animations and swipe
Your users will now see the first page of your Ceros experience faster than ever before! For most experiences, we've witnessed whole seconds shaved from the initial load.
You'll also notice much improved performance when viewing animations across all channels and devices. Even mobile swiping has been improved with smoother page transitions.

Improved support for Internet Explorer 10
Your readers will now be able to view all animations, including spin, when using IE10.
Create faster than ever before
Drag n' drop images and videos
That's right, you can now drag your files directly onto your page canvas and it uploads automatically. You're even able to drag multiple files at once!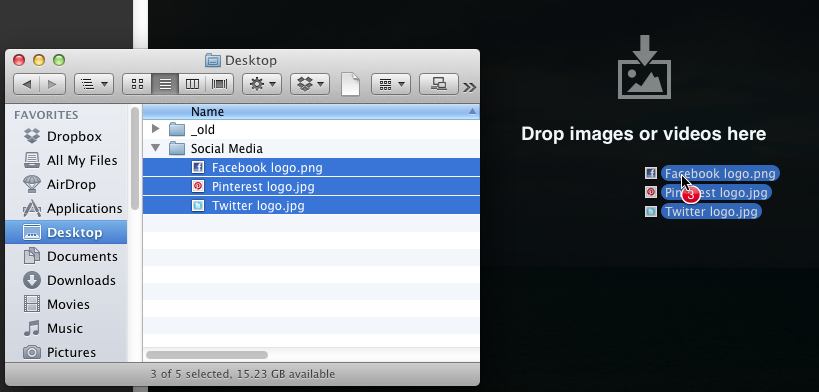 Studio now supported on Windows 7 with Chrome or Firefox
All your keyboard shortcuts now work when using the Studio on a Windows 7 supported browser! You can now successfully copy & paste, undo & redo, and zoom using the Windows CTRL key. See our updated list of keyboard shortcuts on the support site here: Are there keyboard shortcuts in the Studio?
Say goodbye to print replica PDF Import
Print replicas rarely work well online. We know that digital-first content specifically designed for Ceros creates engagement and encourages interaction. And it seems you, our customers, agree.
How do we know? because our logs tell us that the PDF Import tool (a feature only existing as a stepping stone for online print replicas) has never been used! Not being ones to burn effort where it's not needed, we've removed the tool so we can concentrate our efforts on the tools you need to build even more inspiring Ceros content.
Brand new support site
In case you missed it, we recently launched a brand new support site: support.ceros.com. You're now able to search for answers to many of our commonly asked questions. You can view all our release notes in a convenient series. You'll benefit from posts and videos highlighting significant new features. And lastly, you're going to love reading about what our customers have been building and achieving using Ceros.
Resolved Issues:
Query string arguments present in your Commerce Product Panel and Shopping Cart settings are preserved when loading the product panels
We've fixed a bug where the share menu was not properly centered below the share button on your users' mobile devices.
The new Ceros SDK v2.0.0 allows your users to close your product and shopping cart panels in Internet Explorer 8 using your custom close button.
When rapidly configuring your layer settings for Hide / Show / Toggle layer actions, they would sometimes revert to a previous setting. We've resolved this pesky bug.