Released Friday, June 14th, 2013. Newly redesigned player, theming, copy your issues, rotation, and more.
More great features for you, Ceros v5.6.1 was released Friday, June 14th. We think you'll enjoy the new features, improvements to existing features and the return of an old favourite – Rotate!
Your content, your player
We've redesigned the desktop, tablet, and smartphone experience with a new, bolder look that enhances your content without getting in the way of it.
You now have complete control over the theming of your Ceros experiences.
With four easy-to-adjust theme options, you can edit the background color, add a background image, adjust the color of the chrome menu, navigation arrows, the menu icons, and the text color.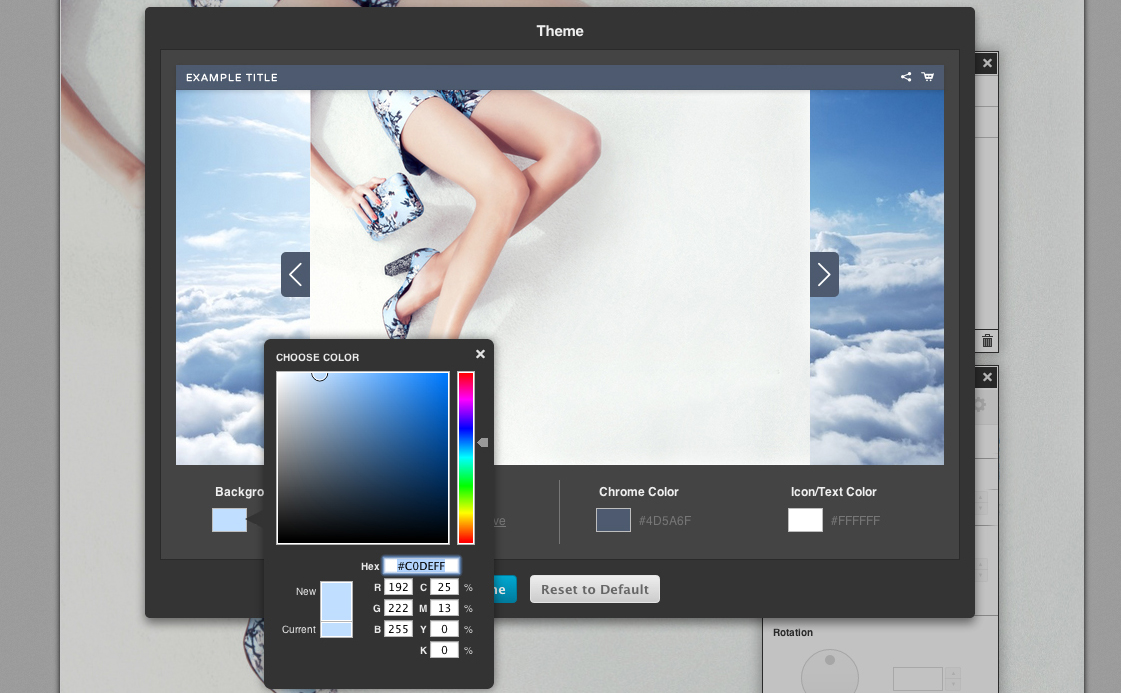 Background images
With a custom background image that always fills the window or device at any size or orientation, your users are fully immersed in your brand.
Themed loading screens
These theme options also apply to your customer's initial loading experience, so they are never viewing something outside your brand's colors.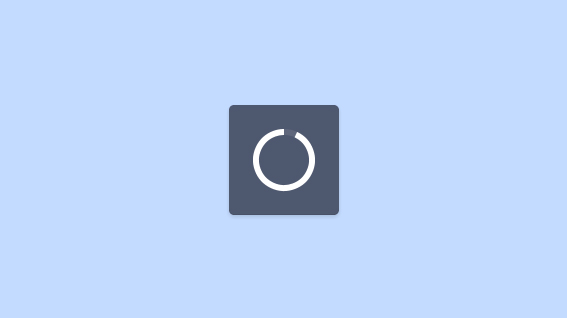 Automatically adjusting navigation arrows
We've gone through great lengths to ensure your content is covered by navigation arrows only when needed. You'll also notice we've given them a background so when the arrows absolutely must cover your content, they stand out from it!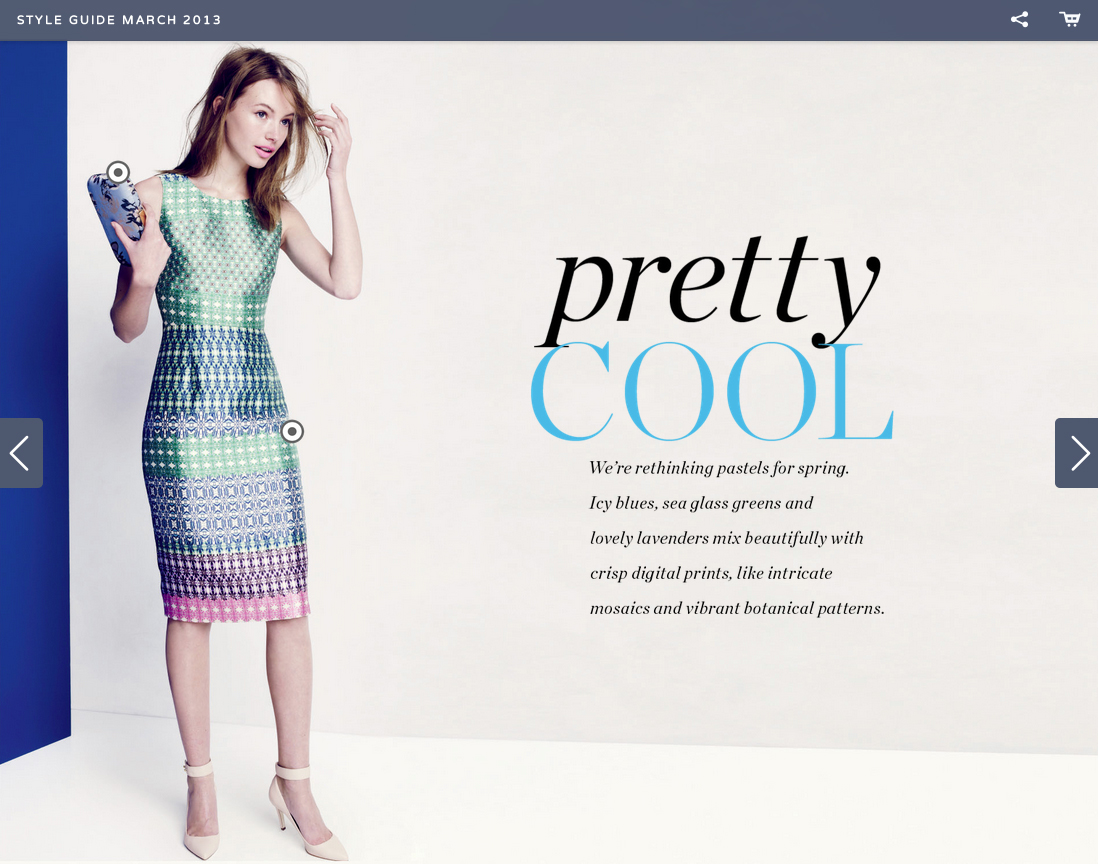 On desktop browsers, you'll see the new slightly narrower arrows outside your content until the browser width has no more room to fit them.
On mobile devices, you'll never see the arrows on top of your content! In fact, you'll only see arrows on mobile devices in landscape orientation when there is enough room to fit them.
Instructions for your first time mobile web users
The first time your users check out your content on mobile web browsers, they will be presented with an instructional help screen. Your customers will only see this screen once per device.
Swipe gestures on your mobile web experience*
You'll be shocked at how swiping on your mobile browser feels like you're using a native app.
Drag your finger slowly across the screen and you'll notice the page moves with it. Give it a quick flick and it quickly transitions to the next page. Flick faster and you'll notice an even faster transition. Pull the first or last page away from the edge and see it "rubberband" back into place.
* Overwhelming feedback from customers illustrated that swipe on mobile devices took precedence over pinch to zoom. For this reason, we have suspended support for pinch to zoom.
More intuitive way to access the mobile web menu bar
Similar to most native apps, we've redesigned the mobile menu bar to only display when the user taps and holds their finger on the screen. Once displayed, the menu bar fades away after 5 seconds of inactivity or when the user clicks anywhere outside the menu itself.
Simplified share menu
Because your customers understand the universal icons for Share, Facebook, Twitter, Pinterest, Email, and Shopping Cart, we've removed the words.

Chrome menu bar now includes convenient shopping cart button
If you've integrated your e-commerce platform with Ceros, your end users will see an easily accessible shopping cart button next to the share button in their menu bar.

Pin to Pinterest
Your customers can now pin a thumbnail of the current page to their Pinterest boards.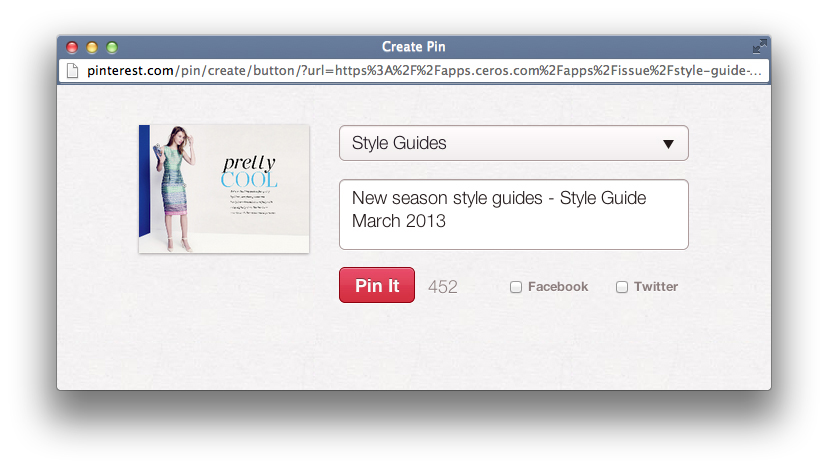 More responsive mobile taps
Your users will no longer experience a small half-second delay when they tap on your hotspots or tappable objects on their mobile devices.
New "Unsupported Browser" design
Your users with Internet Explorer 6 or 7 will now receive a message using your themed background informing them the content is not supported on their version of IE. It includes a link to http://browsehappy.com/ and encourages them to upgrade or switch browsers.
We've also removed all traces of Ceros branding from this screen to ensure a consistent brand experience.
Unbranded "Issue Not Found" design
Your users will no longer be presented with Ceros branding if they accidentally mistype your issue URL.
Animations without artifacts
In the new player, you will no longer see those pesky white lines or artifacts left by animated objects that slide in from off screen.
No more Home screen
We've received many requests from our customers to remove the "Home" button from the menu bar. In fact, many of you are building your own library or archive on your existing websites. Instead of conflicting with your unique design goals for listing your Ceros experiences, we decided to get out of your way and remove the "Home" screen altogether.
Workflow enhancements you'll love
Make copies of your issue
You asked for it, and we built it. You can now copy your issues between apps, or even into the same app. Your copies will start unpublished with a fresh set of analytics. All you need to do is rename your new issue, edit it, and then click publish.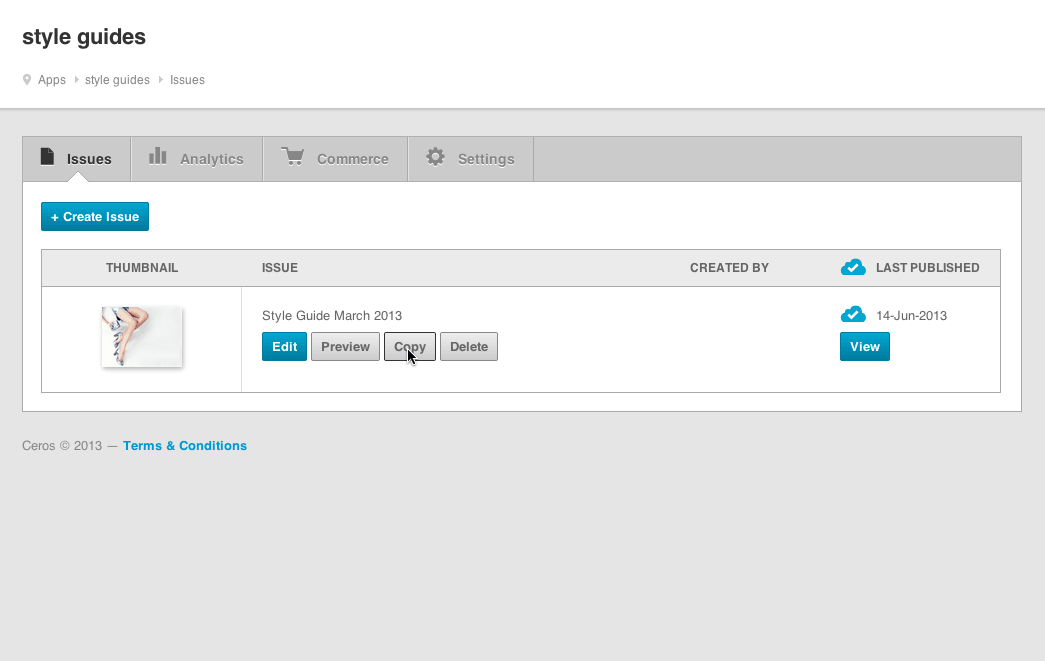 New all-in-one screen for managing your issues
In order to bring you a single screen for convenient management of your Ceros issues, we have removed the grid view when navigating your issues in the Admin area.
This same area contains easy-to find buttons for common actions. The Edit button takes you directly to the Studio. The Preview button lets you preview your work-in progress. And the Delete button is now easier to find and use, with less steps required to delete an issue.
The View button is only available when the issue has been published, and provides a convenient method of viewing the latest published version of the issue.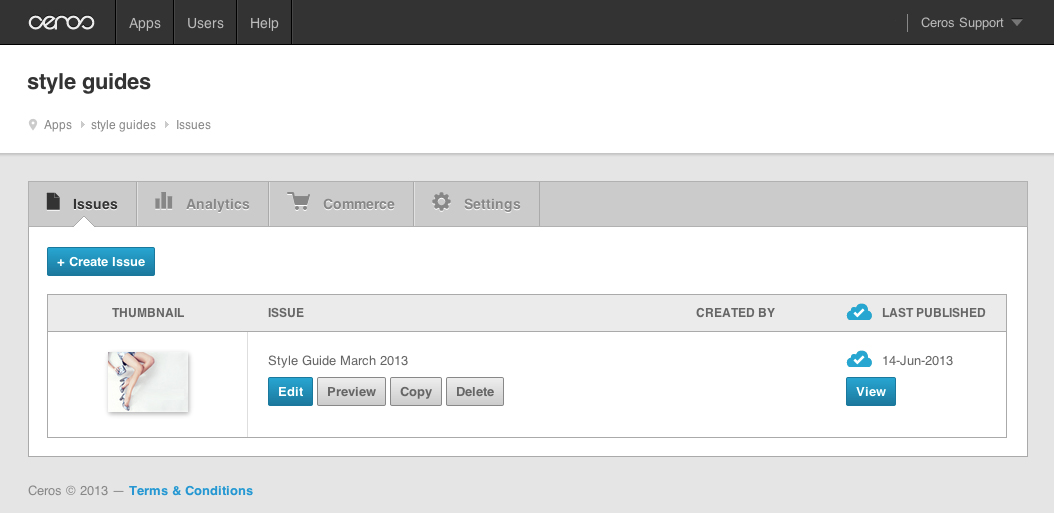 See your URLs before publishing
In your Studio's Settings screen, you're now able to view the URLs used for embedding or distributing your issue before you've published. You can now preview your URL structure and adjust it before publishing live.
Rotate your objects
You can now freely rotate your objects in the Studio using the Inspector's rotation tool! You can even resize your rotated object using the drag handles.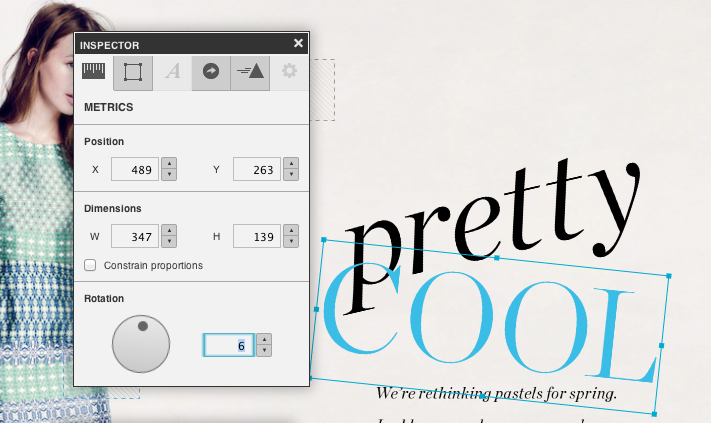 Unfortunately, like many advanced HTML5 features, rotation is currently not supported by Internet Explorer.
Experimental warning in Inspector
We've removed the initial warning popup when using the text tool. As you're using the text tool, you'll see a new notice in the Inspector panel. We'll remove that notice when the text tool refinements are complete.
No more Native App tab
As mentioned in our May 20th update email, to focus our efforts on the web experience, we've suspended support for pre-built Ceros iOS native apps. You'll no longer be able to request a native app build, and support for the Ceros Previewer native app has also been removed in this release.