In this release, we're providing unprecedented ability for your site and Ceros to speak to each other.  We are finally giving developers a set of tools that work hand-in-hand with the creative tools we've given everyone else.  It's pretty cool stuff.
Admin Homepage Redesign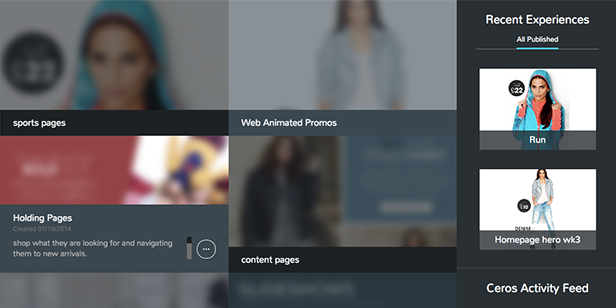 Aside from its sexy new appearance, the Ceros Admin now gives you visual cues to identify projects, quick access to your latest content and a Ceros news feed so you'll always know about the latest updates, features and articles.
We've also made it easier to create and manage your projects right from the homepage. Sign in at admin.ceros.com to check it out.
Ceros Developer Toolkit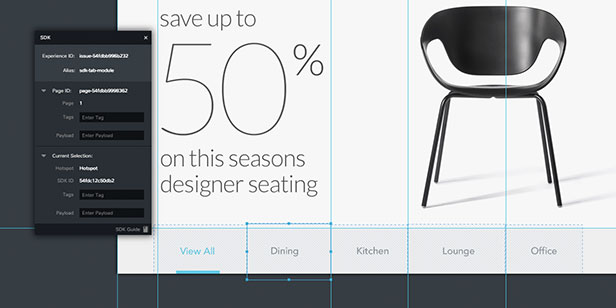 Ceros lets you create amazing interactive content without having to involve your developers. But, sometimes developers can be just as creative as designers.
The new Ceros Developer Toolkit premium upgrade adds an entire suite of advanced functionality to embedded Ceros content.
Want to open a quickview panel from within Ceros? There's an API for that. Want to display different experiences based on where the user's coming from? We've got it covered. How about controlling Ceros interactions from your sticky navigation? Oh, yeah. It opens a flood gate of possibilities.
The Developer Toolkit enables Ceros and your website to talk to each other, creating a whole new world of interactions. See our Support Site for full documentation.
Contact your Ceros account manager to learn more about adding the Developer Toolkit to your Studio.
Google Analytics Integration
Ceros content now integrates seamlessly with your existing Google Analytics account – including visits to each individual page.
Just add your Google Analytics ID to the Settings Panel of the Ceros Studio. It's the one that starts with "UA-" and then a string of numbers.
Important: Individual page tracking only works when you add the ID in the Settings Panel. If you previously added your Universal Analytics Code to the Custom HTML field, you'll need to update.
Studio Design Tweaks
 
Thanks for all the positive feedback about the new Ceros Black studio design. We're also grateful for the folks who shared ideas to make it even better.
We've made a few tweaks based on your feedback including adding a little more contrast, lightening up some elements and enlarging text for readability.
BTW, feel free to send in your ideas. We love hearing what's important to you.